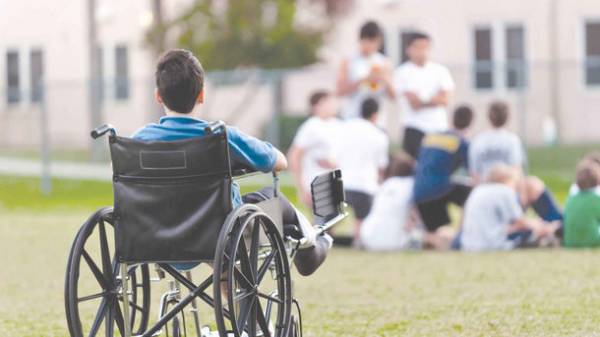 In Ukraine transferred children with disabilities in mainstream schools. Parents of such children can enroll your child in any school, and the school has no right to refuse. On the contrary, it should create all the conditions for the education of children with special needs. As with the new academic year will study children with disabilities, recognize the website "Today".
Why children with special needs to attend mainstream school
In Ukraine 167 thousand children with disabilities, and this is 2% of the total child population. They are isolated from their peers in ordinary schools and therefore find it difficult to enter adult life. In addition, only 10% of graduates of boarding schools integrated. In turn, the children of the schools do not intersect with peers with special needs. Because of this, the Ukrainians have a low level of acceptance of such people. In 2015, the UNICEF survey, only 13% said that they are ready to accept people with disabilities as friends, family members, or to adopt a child with special needs in society of healthy children.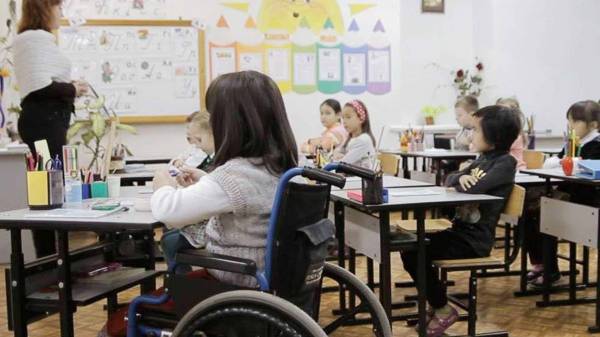 In the inclusive class will be 20 students with two or three children with special needs. Photo: ytimg.com
At boarding school the child may not receive the necessary social skills, which would affect cognitive development and, in principle, on the overall development, expert on the behavior of children with disabilities Wes Granger.
"Schools with inclusive education is just primary education. We adults already have their own prejudices, their children haven't, it plays an important role in the formation of an inclusive society. Society it is important to understand that all are one. To exclude a specific group of people from your part would be not that wrong, that's impossible. This group of people is not going anywhere and they will have to meet. When implementing inclusive approaches with time we understand that we are not just one United community, we are all one family that should support each other and help to develop," said Wes Granger in an interview with "Today".
However, for the maintenance of boarding schools, the state spends six billion a year. Inclusive education is cheaper than in residential institutions – 20 thousand instead of 80 thousand hryvnia.
See also: What will happen to education reform: enter whether the school 12 th grade and whether teachers expect a pay raise
As will now study children with disabilities
Schools must provide these children with professionals and to create separate classes.
In may of this year the Parliament amended the Law "On education". Now, if the parents of a child with special needs wants to send him to secondary school, the school has no right to refuse. The school should create conditions for education of children with disabilities: find professionals, create a separate class to do the academic building and classes comfortable for them. The law States that, if necessary, the school should provide training in sign language, Braille. It needs to Finance local government through a subvention from the state budget. For the education of children with disabilities schools can create shifts, inclusive or special classes and groups with part-time or distance learning.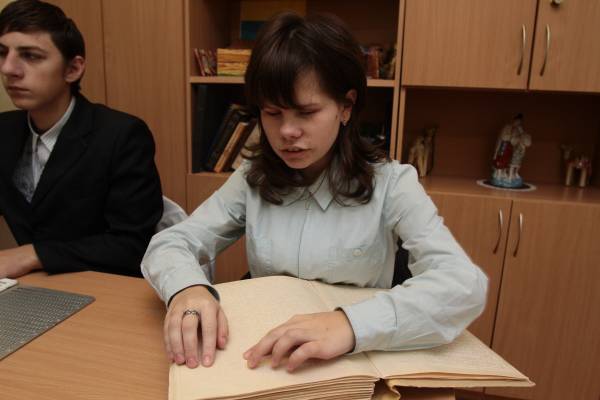 If necessary, secondary schools should provide training in sign language or Braille. Photo: Yuri Kuznetsov
Director of the Kyiv school No. 5 Svetlana oleksyuk sure to the first of September to prepare the school in time. According to her, at the school for children with cerebral palsy, but now the law allows you to create classes and groups for children with special needs.
"In our school, an inclusive school will be open. We have children W cerebral palsy. We think about how to secure login to be able to call in the school building in a wheelchair. However, some diseases can not learn in the same class, so we will figure out along the way. But we we will create inclusive classrooms and to meet the special conditions", – said Svetlana oleksyuk.
School experts will ensure local control of education, adds the Director of the school. After the parents of a child with special applied in secondary school, she advises the Department of education. After that, change the staffing.
While in an inclusive class should be no more than 20 students, of which two to three special child. If necessary, the child should be the assistant. The children with special needs do not have to learn for the sake of high scores, the school curriculum, they can learn.
If a child cannot learn in an inclusive classroom, he will attend a special class within a regular school. It is formed from six to eight children. Inclusion for these children is that at recess, in the cafeteria they are integrated into the regular school environment and communicate with normal children.
See also: education Reform will be reviewed in the first week of September – MPs
Ready schools accept children with special
Now the majority of Ukrainian schools architecturally inaccessible to children with disabilities. According to the Ukrainian Helsinski Union on human rights, 17 thousand schools 91 only has access to the second floor for children in wheelchairs. 25% of schools do not have access even to the first floor. While the law stated that local authorities must arrange for transportation of children with special needs from home to school and back, it is not specified requirements for the suitability of the bus for all children with different diseases – disorders musculoskeletal, hearing, vision. Also schools will have to build a separate adapted for children with disabilities toilets.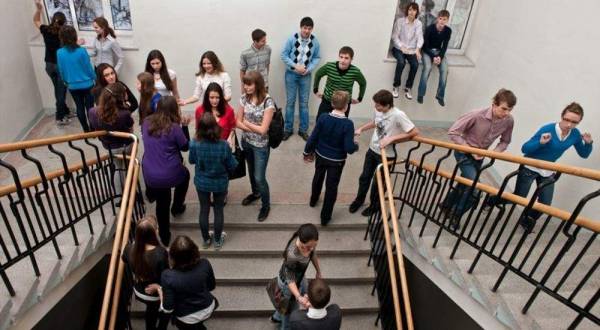 The majority of Ukrainian schools are not adapted for children with disabilities. Photo: Vladimir Alekseev lifeisphoto.ru.
Inclusive education has its advantages, but Ukrainian schools are not ready for it, the Director of Rava-Russkaya of specialized boarding school Andrew Soltis. The level of knowledge of the child with disabilities will not increase compared to the boarding school.
"I think now most schools don't have a clue about inclusion. Moreover, where to get specialists is also a problem. I think this decision is premature," says Soltis.
Director of boarding-school notes that the Ministry of education could remove the function of social protection of boarding schools and turn them into full day school. So school children could learn and live, for example, five days a week. A weekend to spend with my parents. So the child would not have been torn from the family, he said.
However, Andrew Soltis notes that if the authorities insisted on closing the boarding schools, but this year the rhetoric of no, because there is a problem with children from socially disadvantaged families, who can stay on the street.
Comments
comments