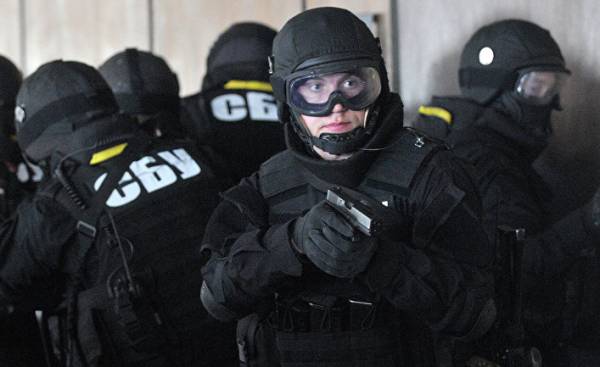 The celebration of Constitution day of Ukraine had a bitter aftertaste and was dashed by the tragic events. The day before, June 27, at 8.15, in the center of Kiev exploded a car while driving. It killed the Colonel of the Main intelligence Directorate of the defense Ministry of Ukraine Maksym Shapoval. The bomb with a radio-controlled detonator was planted under the driver seat. The chance of survival of a soldier was not.
A number of questions arise: how the enemy is laid explosives in the car? From whom received information about the service transport Colonel? And most importantly — who committed the attack? Special forces from Russia? Recruited agents from among soldiers Gur? Just the agents of the Kremlin, which is full of all Ukraine?
On the same day, at about 19.00, on the territory controlled by Ukraine, in the village of Elenovka of the Konstantinovsky region of Donetsk region on the managed land mine blew up a car with servicemen of counterintelligence of SBU. Killed the Colonel of SBU Yury voznyi, two soldiers were injured. The explosion occurred in the rear area, away from the demarcation line. Therefore, the event of sabotage-reconnaissance groups of the enemy rejected. Again, questions without answers: worked as local agents of the enemy? If so, how information about the route, the vehicle, the people in the car? The specialists, recruited from among employees of the SBU? Then why not finalized, but two survived?
Two months before, on March 31, in Mariupol in the car exploded killing the Colonel of counterintelligence of SBU Alexander Kharaberyush. But in the beginning of the year he was recruited by militants DNI, who was originally from Mariupol. Gave the gunman managed the mine, so he laid it on the ammunition dump of the enemy. And then the car exploded Kharaberyush that the explosive device which was referred to the gunman.
In April-June 2014 we wondered: how small arms get to the rebels? Further — from where came so much military equipment, multiple rocket launchers and tanks from Russia, if the border was still guarded by the Ukrainian border guard service? Surprised and confused by the surrender of the Armed forces of Ukraine. And then our covered with fire that led to massive losses of personnel and equipment.
For the fourth year of the war, and intelligence agencies of Muscovy walk around the Ukraine as they want, and even cynical destroy our specialists. Cynical and revealing. Formed depression in the population. And most importantly — it undermines the authority of the Ukrainian security forces, decreases their morale. And their demoralization can have dire consequences.
Already long overdue reform of the security services. You should remove unusual SBU function in the economic sphere, to raise the level of material support and salaries. They have commandos can't be at the level of survival. At least, salaries dolinay not be lower than the detectives of the NABOO. If not realized, the consequences for the Ukrainian state could be dire.
Comments
comments