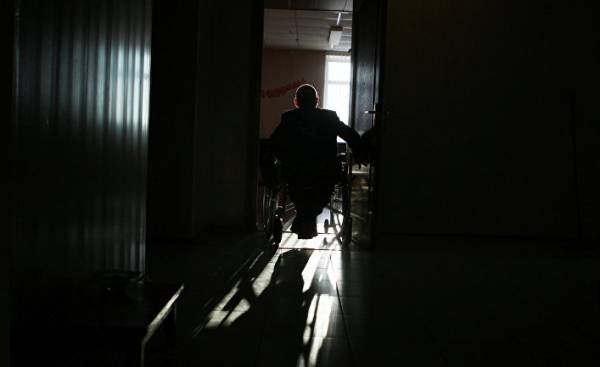 He suffers from a severe muscular disease and needs care 24 hours a day. However, the 23-year-old Russian journalist five days I've been inside the migration office, not getting any help.
"With worsening conditions, I can die," explains Andrey Poroshin asked Sweden for political asylum.
23-year-old Russian journalist Andrey Poroshin fled from the Putin regime and requested political asylum in Sweden. But in accordance with the Dublin regulation (an EU regulation that determines which state has to consider the request for asylum, approx. transl.) he should seek asylum in Estonia, as it was the first country in the EU, where he arrived on the ferry from St. Petersburg. In anticipation of the expulsion of Andrew was detained and placed in a facility of the migration office in Marsa. Andrew suffers from spinal muscular atrophy is severe and confined to a wheelchair with electric. Due to illness of his life in constant danger, if not created the necessary conditions.
"The slightest wrong move could lead to the fact that he starts bleeding internally and dies," explains lawyer Andrew Marc Safaryan.
"I could die"
Despite this, Andrew was placed under lock and key in the establishment of the immigration Department, and the room was so small that he could barely deploy their wheelchair. Proper care is not provided.
"I have no muscles. If I go to bed, then get up. I need care 24 hours a day. I need help to Wake up to go to the bathroom, sit down, — says Andrey, who has to wear a sort of corset to hold the body in a sitting position. The guards helped me, but they have no skill, so it was awful for them and for me. They raised me, and it is dangerous. If I fell, I could break his legs or neck and die."
Didn't shower for five days
By the time of the visit Aftonbladet in an institution North of Stockholm Andrei has already held in this room for five days. He complains that he has no muscles around the respiratory system, so he needs fresh air, but do not let him outside more than a couple of hours a day, and the room, in his opinion, not enough oxygen. And it is five days was not in the shower.
"This is a big problem. Worst of all, deprived me of freedom, I can't go to the shower and not feel safe. The police have promised that there will be special lifts, and staff who will take care of me, but for five days I did not see anything".
"Not in our competence"
During a visit Aftonbladet suddenly withdrawn in his new room. In office on the first floor will have more space, there is a lift, so he could lie down and get out of bed. Coming staff care services, which will go to Andrew six times a day, as it says in the manual.
"We contacted the municipality and its care service and they are today ready to offer him help. Such a task I received from the municipal authorities — reports Tommy Harnesk (Tommy Harnesk), head of the Department in the establishment of the immigration Department in Marsta. — It's not in our jurisdiction, the decision as to the persons who need such assistance, adopt a municipality".
Aftonbladet: According to Andrew and his lawyer, improper care could kill him. How do you feel about in the fact that such person was in conclusion?

Tommy Harnesk: So we contacted the municipality, we have realized that it is not within our competence to solve this situation in the best way. We acted as quickly as possible, to make everything better for him. Of course, we want the people we cared as best as possible".
After Andrew moved to new room, it became clear that on this floor there is no toilet. Every time he has to go to another floor.
Researched Putin's regime
Andrew has long been a political activist and worked in the newspaper, which examined the situation of persons with disabilities in the country of Putin. But after he started a blog and gave a few lectures at universities, behind him came the police.
"Wanted to put me in jail or in a psychiatric hospital — not in Sweden, and one in which I would seem dead if it got there. If I go back to Russia, you would be in mortal danger."
Andrew arrived in Sweden via Estonia, filed a petition for political asylum in connection with the disease was immediately placed in a specialized institution for the care Vattholma. And mark Safaryan, and his client argue that Andrew has regularly notified the police about his whereabouts, including that time when he went for a week to a friend in Uppsala, to work in peace and quiet. But when he came back, he was detained by police and accused of trying to escape. Opinions about this situation broke up.
"I told the police two of my email addresses and every day they were checked, but no I did not write anything. I gave them my Russian phone, but never called me. They contacted my lawyer, who said that I was in Uppsala, and they told him that the address is not necessary, — says Andrey.
"He gave them the address, said where she was going, and then came back. If he wanted to escape, it would not return. He is not a fool, he said Safaryan. — He will not flee, because he can not. It requires full-time care and supervision. Outside the walls of a special institution, he will not survive, in spite of all the charges."
"You can't fly"
However, Andrew was sent to Marstu and put under lock and key.
"P. had been hiding from authorities and Executive bodies, leaving the center without responding to attempts to contact him, leaving no contact and did not report information about themselves to the police Department, with the result that he was declared wanted," — says the decision on his detention.
Mark Safaryan says that the flight or ferry to Estonia threatens the life of Andrew.
"He can't fly, because turbulence may be deadly. He can't drive. And now the police were going to send him on the ferry".
Andrew, who is now taking an exam in Economics, wants to seek political asylum in Sweden and to continue their education at a Swedish University. He's already found the place where Economics is taught in English, and I am sure that in the Baltic country, such education is not to. Besides, he is very afraid to be in Estonia a victim of discrimination on the grounds that he is Russian.
"Estonia was occupied by Russia, and now they hate Russian. Perhaps they're sending me to Russia", — says Andrey.
"Poses a threat to life"
Although the conditions of life of Andrei in conclusion, now improved, he was given a room equipped for the needs of the disabled and provided the best care, his lawyer criticized the decision to place him in custody.
"His condition is very heavy, it poses a threat to life. He has no muscle, no legs. He is heavy invalid, he has no spine. The staff does not have skills of handling such people as Andrew. Those who want to cooperate, not placed in detention, those suffering from severe illness, associated with life-threatening, is placed under guard."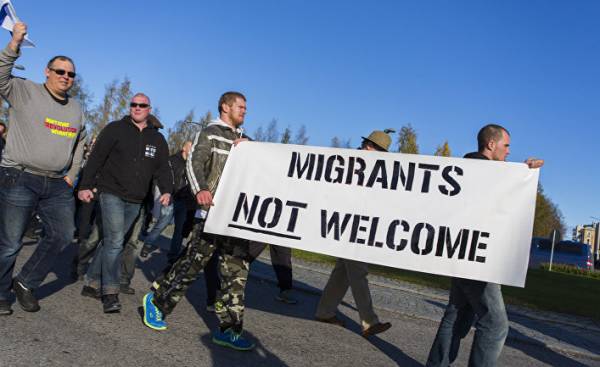 © AFP 2016, Robert Nyholm / TT News Adamantylation rally in the city of Tornea on the border of Sweden and Finland
Last Monday mark Safaryan appealed the decision of the police. Counsel argues that Andrew the whole time was ready to operate, and requires first to release the customer to provide him with care.
Mark Safaryan writes:
"Due to the serious condition of Andrew to keep him in detention is extremely dangerous. Institution in Marsta not adapted in order to provide for the needs of Andrew. The situation has deteriorated significantly. Conclusion aggravates the condition and is also a serious interference with his private life. In addition, he wants to be under supervision".
The appeal was rejected
But on Tuesday, police dismissed the appeal. On the same day and was given a negative response to the Brand Safaryan requirement to hold an oral hearing in the migration court. The explanation indicated that, after leaving specialized institution for disabled people in Vattholma, Andrew "went underground".
"Proceedings simply will not, — said the lawyer. — Police sent a long opinion of the court, the essence of which is that he'll disappear if he let go. About his physical condition says nothing, although they had to take it into account. All this is bad for his health."
Spinal muscular atrophy
Mar Tulinius, Professor at Children's hospital Queen Silvia, explains:
"There are several degrees of spinal muscular atrophy. A grave form of the first degree. Children get sick in the first months of life, they develop serious breathing disorders. First, they often died within the first year of life.
The second level is called intermediate. These children are able to learn to sit but not to walk. They can live long, but they are more vulnerable. It all depends on what the treatment was carried out before and the condition of the child.
Third degree — the easiest. It occurs after the child learns to walk: two to three years to adolescence. In this case, children lose the ability to walk around as is growing. They become weaker, and muscle mass is not enough, and going on disability.
Then the disease affects the respiratory muscles. In severe forms, the first or second degree, children need respiratory, expectorant equipment. Of course, this is a very serious disease".
Andrew about his illness (he believes that he — the third degree)
"I was born a normal guy, started to walk at nine months. But a few years ago Russian doctors gave me bad medicine. When I started to have trouble walking, they just said "gonna look like, but themselves." In ten years, I was in a wheelchair. Went to the clinic in Germany, and they said that would fix me, if I came on a few years earlier."
Comments
comments