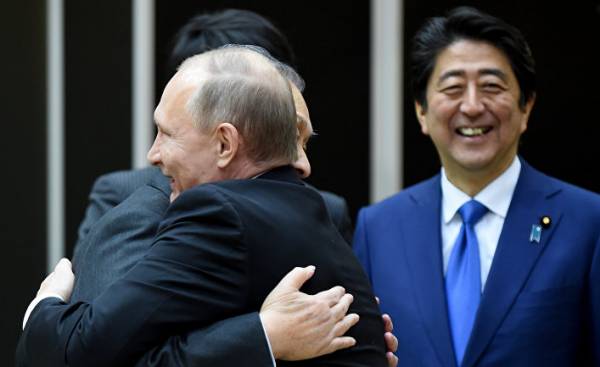 The Putin administration welcomes the rapprochement of Japan and Russia in the field of economic cooperation, however, makes clear that will not yield on the territorial issue. Earlier this month, President Putin has provided a very warm welcome of the Japanese ex-Prime Minister Mori Yoshiro (Yoshiro Mori) which arrived in Russia, but the Russian government actively creates TOR the "Southern Kuril Islands" on the basis of the Russian legislation.
In September in the Russian far East, President Putin and Prime Minister Abe will hold a regular meeting. However, there are no prospects that Russia will soften its position.
President Putin met Mr. Mori in Yekaterinburg. After negotiations, on 9 July, which was delayed until late at night, Putin drove to the hotel Maury. Thus the Russian leader has expressed concern about overage Mori, who described Putin: "He is one of the few who so understands the Japanese."
The next morning, the head of Russia visited the pavilion of Japanese companies at the exhibition "Innoprom" in Yekaterinburg. For inspection of the pavilion, he has spent twice more than planned time, which was struck by representatives of Japanese companies.
Experts believe that the reason why Putin has repeatedly demonstrated attention to Japan is the high estimates of Japanese economic cooperation with Russia.
This year Innoprom has participated 20 times more Japanese companies compared with last year. In total, there were 168 organizations from Japan. "I think Putin has realized the full potential of our bilateral cooperation", — proudly said the economy Minister of Japan, Hiroshige Seko (Seko Hiroshige).
However, it is difficult to say that the government of Japan has achieved its goal — at the expense of economic relations to break the deadlock on the territorial negotiations.
6 Jul senior Russian official announced the creation of the TOR of the "Southern Kuriles". In mid-August will be held a Ministerial meeting on this issue. Russia and Japan are negotiating joint business activity on the "Northern territories" based on the "special system", but the creation of TOR in the Southern Kurils on the basis of Russian legislation will be a serious obstacle to this. Russian expert Alexander Gabuev said: "This is a manifestation of the intentions of the Russian government, which wants to conduct joint business activity under Russian law".
In September there will be a meeting of Putin and Abe on the sidelines of the economic forum in the far East. Nevertheless, on 17 July the speaker of the Federation Council Valentina Matvienko stressed that the conclusion of a peace Treaty with Japan it is important to realize the Japanese plan for economic cooperation, consisting of eight items. In this regard, Japanese experts fear that a situation may arise in which Japan will be led by Russia in the field of economic cooperation, but the problem of "Northern territories" and will not move from a dead point.
Comments
comments