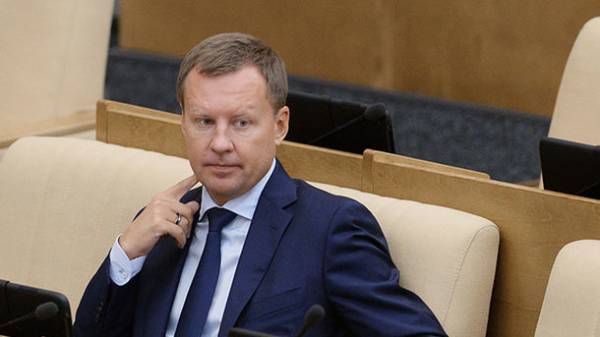 Today in Kiev in the shooting death of former Deputy of the Russian state Duma Denis Voronenkov, who took Ukrainian citizenship and testified against fugitive ex-President Viktor Yanukovych. The police registered a murder. In October 2016, Boronenkov wife and I moved to Ukraine, gave a few interviews, after which the Investigative Committee of the Russian Federation declared him wanted. "Snob" I remembered what he was talking about Boronenkov shortly before the murder
1. The decision about the annexation of the Crimea was attended by one person. All the normal people were against it. Including his inner circle.
2. In Russia, the system destroys people. Negative selection makes intelligent and worthy either to be silent or to flee. I'm not the first and I'm not the last who tried in Russia gnaw their place under the sun. But the country divided by clans. To anyone outside the clan system does not allow it to be hooked, everyone eats. Protectionism, nepotism, intraspecific struggle is what's happening now in Russia. Take the appointment of the Governor, there is a principle: "whose will You?". Financial-industrial groups controlled entire regions
3. The situation in Russia now as in Nazi Germany of Hitler. Everyone knew that it would destroy the Jews, but continued to work with him for many years, pretending that nothing is happening. The whole state has gone mad in pseudo-Patriotic frenzy. Many things are now identical in Russia. As one famous writer: "What unites Russia Ivan and Magomed? This is an opportunity *** (steal) something for free". Then go all national, religious and language differences. Crimea has become such a litmus test – he has brought Russia around the idea to steal something from his neighbor.
4. Over the past 20 years, Russia has lost its system of education. Today is raising propaganda. When young people with no education, no profession, say every day: "redobandire, ukrofashisty enemies", they have a pseudo-patriotism, they go to war. First and foremost, because they are not in demand, can not find myself in Russia. And the dirty state is a parasite on them, using them as "cannon fodder".
5. Russia is much amorfnye Ukraine. Much more possibilities to exploit it to get this power could hold his position. Therefore, the Kremlin was furious, and shouted that the events in Ukraine is the hand of America. And suddenly, this happens in Moscow? There is also a huge number of dissatisfied people. That was the main problem. To strangle in the Bud and show that God forbid something like this happens.
6. I would have been jailed on spurious grounds. My family would have been destroyed. My wife has already lost two children when there was this pressure. Someone would have remembered in Ukraine about a man Denis Boronenkov, who voted against the Crimea?
7. I ordered the General of FSB Oleg Feoktistov. Until recently, he headed the security service of Rosneft, where Sechin runs. My opposition to Feoktistov began in 2007 while working in the Federal service for control over drug trafficking.
8. It's not the first time put a spoke in the wheel. In 2006, I was shot and I was injured. Fortunately, managed to recover, I then made about ten transactions. It's all a result of my work, I avenge her. When I was elected to Parliament, I was told that I would be in trouble. But I'm willing to stand up for themselves,
9. Moscow – the evil city, it is not all it takes. There's a free moment – just want to go somewhere. In Kiev there is no such, then breathe easier, the city more green.
10. I'm not a fighter with the "bloody regime". I call a spade a spade.
Former state Duma Deputy Ilya Ponomarev believes that the murder of Denis Boronenkov in Kiev involved the General of FSB Oleg Feoktistov. "My main theory is that those who are behind it is the same people. Oleg Feoktistov – former and current General. In Russia, there are few generals who have the right to direct call to President Vladimir Putin. Feoktistov is one of those generals.", – said Ponomarev.
Comments
comments