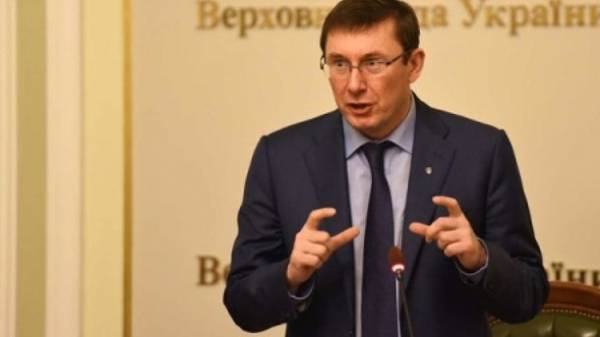 The salaries of local and regional prosecutors will grow at an average 10 thousand UAH, the salary of the attorney General will become more 30%. About that Prosecutor General Yury Lutsenko reported today in the river at the meeting with prosecutors of regions, reports LIGA.net.
Lutsenko reminded that the Verkhovna Rada adopted the law which significantly increased the salaries of prosecutors. Now the law awaits the signature of the speaker of Parliament, then must be signed by the President. "I think that with high probability this law will be signed," he said.
According to him, after the increase in the salaries of the regional public Prosecutor, depending on experience will receive hands on from 23 to 33 thousand UAH. The head of the Department, which now receives from 14 to 23 thousand UAH, will receive 18-33 thousand
The Prosecutor in the region, which is now in the hands gets 10-15 thousand, is planned to pay from 15 to 26 thousand UAH. Senior investigator for particularly important cases today gets 11 to 17 thousand UAH thousand UAH is planned 16-29. Senior investigator today gets 10,5-15,5 – scheduled from 15.5 to 28.5 thousand UAH.
"The trend is clear. Growth (salary – Ed.) investigators and prosecutors at a maximum rate of about 70%, the growth of payments to administrative staff – about plus 30%", – he said.
The local head Prosecutor today receives 21-29 thousand UAH, depending on years of service, after the increase will be from 22 to 35 thousand UAH. The head of Department receives 12,5-17,5 thousand UAH, will be 15,5-26,5 ths. The Prosecutor of the local Prosecutor's office today, receives from 10 to 14, 5 thousand UAH, and will receive from 14.5 to 25.5 thousand UAH.
See also: Lutsenko called his main achievement on a post of the public Prosecutor
"Help, I note that the attorney General and his deputies will receive an increase of 30%. More gains we currently do not plan to," he said.
Earlier, Yuri Lutsenko said that the new Prosecutor's office for the year their activities have expanded Ukrainian Treasury tens of billions of hryvnia, the property returned more than 70 thousand hectares of land.
Comments
comments