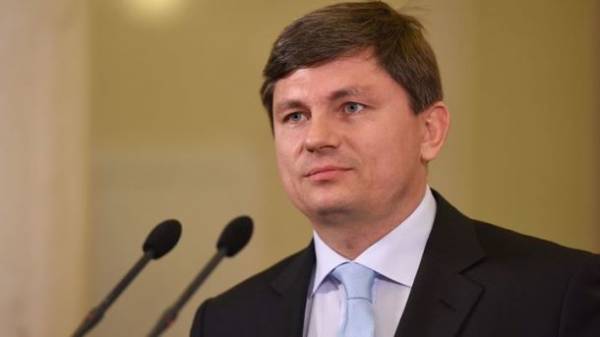 The Chairman of the faction "block of Petro Poroshenko" Arthur Gerasimov believes that it makes no sense to block the rostrum of the Verkhovna Rada, as the President has urged to suspend the decision of the national Commission on the introduction of a fee for the gas. He said this at a meeting of the Parliament, commenting on the blocking of the faction of the Radical party the rostrum of the Parliament.
Gerasimov stressed that the current week it is planned to consider draft laws on the constitutional court of Ukraine and the laws relating to transportation issues.
"So I think that the issue with the fee, the issue of gas prices for the population is solved, it is not political," – said Gerasimov.
He stressed that "any blocking today, does not make sense" because "we need an effectively working Parliament".
At the same time, the faction of the Radical party continues to block the rostrum, and the leaders of the factions are not from the rostrum and from their jobs.
As reported, on March 28 the national Commission carrying out regulation in the sphere of energy and utilities, approved a new method of calculating the cost of gas for consumers, including population. According to this decision, from 1 April the price of gas will consist of two components: the price of gas as a commodity (about 6 UAH per 1 cubic m) and the cost of its transportation by transmission system and distribution through the regional distribution networks (the so-called "fee"). The latter will be calculated on the basis of the maximum bandwidth of the meter of the consumer.
According to some experts, the new method of calculation will lead to an increase in the value of license fee for those categories of consumers who use gas stoves and have no counters, and it will allow gas companies to additionally earn about 7.7 billion UAH per year.
The President of Ukraine Petro Poroshenko made a request to suspend the decision on the introduction of a fee for the gas.
April 3, Lyashko said that the faction of the Radical party will block the rostrum of the Verkhovna Rada, demanding the report of the Chairman Dmitry NKREKU wolf regarding the establishment of a fee for the gas.
Comments
comments