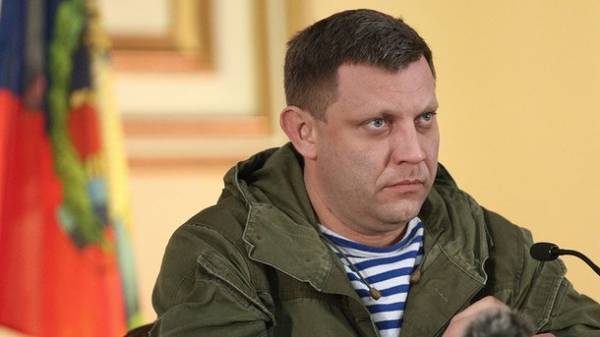 The leader of the militants of the so-called "DNR" Alexander Zakharchenko announced the establishment of a new country called "little Russia", which is supposed to replace the current Ukraine. But Moscow quickly distantierului from his too ambitious statements. As reported ZN.ua, writes Newsweek, Recalling that the press Secretary of the Russian President Dmitry Peskov called them "personal initiative" and the leader of Pro-Russian militants. At the same time, a Kremlin spokesman said that Russia supports the implementation of the Minsk agreements, and the announcement of the so-called "little" contradict them.
The newspaper reminds that Russian-backed militants with the help of Russia captured part of the region in the East of Ukraine in 2014. But the Kremlin still denies that the militants in Donetsk and Luhansk controlled by Russia.
Other Russian officials also supported the statement of Peskov about the "little" crawling ambition Zakharchenko. In particular, his idea was supported by Russia's representative in the Trilateral contact group on settling the situation in Donbass Boris Gryzlov. In comments to the Russian media he said he did not believe that the words of the leader of the Pro-Russian fighters will have "any legal consequences."
The newspaper reminds that earlier, the Russian propaganda officials quickly spread the application and approval Pro-Russian militants. For example, Moscow quickly spread Fudge bovikov when he was hit by a Malaysian "Boeing 777" in the Donbass. But in the case of "the Ukraine" that did not happen. In place of this reaction was skeptical.
See also: state Department commented on Zakharchenko's statement about "little": Unworthy of attention
"The idea of a so-called "little" promoted by the bloggers and authors closer to the leaders of the "DNR". Even though there are many do not take it seriously", – said Russian political analyst Alexei Chesnakov, who has ties with the "gray cardinal" of the Kremlin, Vladislav Surkov.
According to Chesnakov, "after a month all inclusive with the idea forget about the Ukraine".
Recall that on 18 July the leader of the so-called "DNR" Alexander Zakharchenko announced the creation of a new project under the name "little Russia".
The President of Ukraine Petro Poroshenko, in reply, said that the leader of the so-called "DNR" Alexander Zakharchenko is not a political figure and only relays the Kremlin statement.
Comments
comments