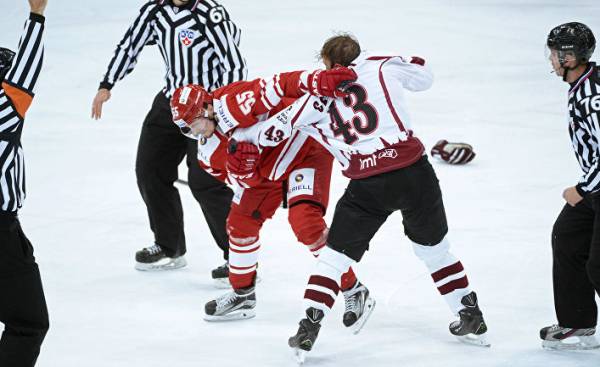 The company boss of gas transporters Juris Savickis used his connections in Moscow to cause trouble for the Latvian journalist, and at the same time showed its real face. So we can say about "business Armand Puce". MTG TV Latvia has stopped cooperation with a well-known sports journalist, who during matches Dinamo Riga led "Hockey".
Media company explains that changing the concept of "Hockey Studio" and, accordingly, is also a leading transfer. First, however, Puig made a statement, stressing that all this is due to an ultimatum from Moscow: a pier, or remove it from the airwaves, or will not conclude the agreement to broadcast matches of the Continental hockey League (KHL). An experienced journalist deserve such hostility because he was criticized in his publications the political ideology of the KHL and Dinamo Riga, and sharply opposed to the Chairman of the Board of the club, a former staff member of the state security Committee of Juris Savickis. Later on non-participation in the work of the Studio in the new season announced also a traditional partner Puce coach Oleg Sorokin.
"I didn't dream and I do not think that this decision is connected with my articles. The TV I was informed that my services are not needed, arguing exactly as I was told, said in an interview with the author Armands Puce. — When we negotiated with the TV (in previous years) about the hockey Studio, I very clearly understood my job, I have never been restrictions. The television knew what I what are my values, what I believe, and never for me, there was no indication to say so "hasn't hurt us," etc. Frame the studios are very specific sport, a specific game, and I never violated and never talked about politics. Do not blame the Studio, and my belief that I expressed in specific articles. It was important for me to say about the Studio, because if I waited, as television is "pack", it would be too naive on my part and would come out like I'm making excuses, hold a chair. TV I'm not accusing you, but, first, it looks ugly, secondly, will not stop the compromises that they are due to blackmail now allowed. Will the next contract will again be extended conditions. Now I took one scalp, and in the long run will defeat themselves."
LA: "Grow any legs" from Savickis?
Armands Puce: of Course, because the method is very simple. Savickis as operative worker of the Cheka strong in the creation of agents or informants in the selection of people who listen, obey, this I learned, including from his contemporaries. But to charge the strategic work he can't, all mixed together, and this is the case. Translated my article and gave the functionaries in Moscow. I previously got a clear reference that with the position I is not desirable near Riga Dinamo, security did not even let into the training suit. Without this I can do, but this does not affect my ability to draw conclusions. Now I waited for this moment.
— They want to hurt you, but purely practical — what will you lose if not allowed to lead the Studio?
— Nothing, I will only benefit. Now I'm only convinced that my theory about the connection of politics and of Russian money, which are flooded in Riga not because hockey was correct. Hockey is just a cover. Now I can spend more time with family, take care of health, to be with grandchildren. For me, "Hockey Studio" has never been more important from a financial point of view. In addition, for a journalist there's no greater satisfaction when it is published, resonate, and translate them into another language. Let the Russians know what we think, let them live with that thought.
— Whether to participate Dinamo Riga in the KHL?
We broke the story about the oligarchs. We used to live in a cliche and people use it, if we have one Communist Elders Rubiks, three well-known oligarch. But groups that foamed water, a lot more. It's absurd that we in Latvia have created a model, where an intermediary between Russian gas and Latvijas gāze is one company, its representatives call themselves businessmen, but they are actually puppets that serve this contract and influence the political process, and Juris Savickis behind the scenes influences this. Assessment of the situation with (two-seater) Duurzame such a case is like a service to the Kremlin, Sawicki emerges as a person who cares, to nothing against the Russian regime did not happen. And there stroked him. This is such kirhensteins (Augusts Kirchenšteins, the first Prime Minister after the occupation of Latvia in 1940 — approx. author), they will not find it. Dinamo is a Russian project, which Latvia cannot afford. Sawicki can buy broadcasting time on public television and tell how he is a philanthropist. Of course it was, but look who's behind this, what's he still doing in Latvia and what kind of people make policy. Thanks to hockey, he found the podium, talking about him. How many people knew some Juris of Succisa to Riga Dinamo? Now he sees that he has the weight of into the VIP box "Arena Riga" walk not only close to Latvian politics, people, and current policy, which is absurd: in the bed of the Russian special services sitting officials with access to state secrets. Dinamo Riga is an artificial project as an inflamed Appendix.
— Would be Latvian hockey lose if Dinamo Riga have not played in the NHL?
Hockey in Latvia was Riga Dinamo and will be after him. What in the Latvian hockey became big money — that's it. If we were so smart as a nation, to take that money and invest it advisable, then everything would be okay, but right now we simply rake in. Sawicki wants to emphasize that he is the Herald of an era. But it's not. To gather around him in the operational work of agents, informants — he's impeccable, but the strategy to Savickis can't be trusted even to sharpen a pencil.
— You would have called for fans to boycott matches Dinamo Riga?
— No. I'm not a fan, as a journalist, and that line should never be crossed. The journalist explains and makes you think about things that happen around, and if a group of people finds this value and raises the flag, then let it happen. Boycotts — the least we can do. We will be smarter, more cunning and start weeding the overgrown flower beds. No need to make Latvia a country where there are a select few characters. Groups a lot of, let's deal with them to feel that they are not abortive us. Otherwise not going to move forward.
Comments
comments