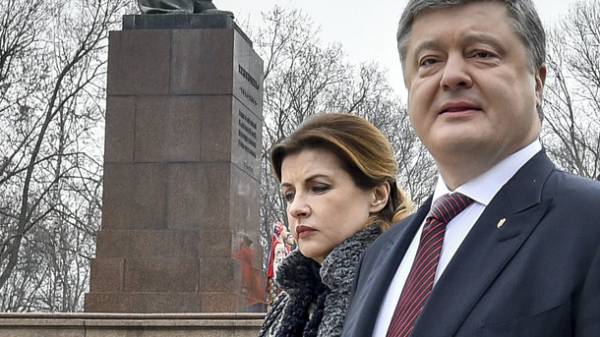 Ukraine and Georgia have common threats, but in hard times they can count on each other. This was stated by Ukrainian President Petro Poroshenko in Tbilisi at a press briefing with the Georgian leader, reports "Ukrainian truth".
According to Poroshenko, four days later, Ukraine and Georgia will mark the 25th anniversary of the restoration of diplomatic relations established on 4 July 1918.
"100 years ago, we lost independence, both Ukraine and Georgia. And the more important should be our actions now to preserve and protect the Ukrainian and Georgian sovereignty, territorial integrity and independence, to defend our freedom and democracy," – said Poroshenko.
"The threat to our freedom, democracy and independence are one and the same. And we will not allow anyone to dictate the future of our great Nations. And that makes us much closer", – said the Ukrainian leader.
"The Ukrainians firmly believe that in tough times they can count on the fraternal Georgian people – as well as the brotherly Georgian people can count on the firm support of the Ukrainians. So it was in 2008, in 2014, and now," he said.
Poroshenko added that everyone has a "personal page which reflect the friendship between the Ukrainian and Georgian peoples."
Read also: Poroshenko announced the signing of an important agreement with Georgia
"Few people know that in the distant '33-year-great-grandfather of my wife, to save his family from famine, was forced to flee to Tbilisi. Georgia saved my wife's family from starvation," – said the President.
"And my wife's grandmother, Anna Nadezhdina, in '43, the year was in Stalingrad and was evacuated to Tbilisi. And she lived here – yesterday I found out because Marina called mom – on Krasnoarmeyskaya street 28. I don't know how she is now called, but we will try to find this house and thank the people who saved my wife's family", – said Poroshenko.
Pradd mA, druzini in 1933 year, retouche homeland from famine, limosani CCB vigate to Tbls. So Georgia uratowali home mo, druzini. pic.twitter.com/P0MmbKJFJv
— Petro Poroshenko (@Poroshenko) on July 18 2017 R.
He stated: "It remains in generations, and this forms a solid Foundation for our trust and our friendship. Just now we are counting on each other".
"Now the Ukrainians bow their heads in memory of our Georgian brothers who, in 'the 14th came and enlisted in the Armed forces of Ukraine, because defending the sovereignty and territorial integrity of our country – they were confident and they were right – they protect the Georgia. It's very touching," said Poroshenko.
He stressed that such steps constitute "the Foundation of friendship" of Georgia and Ukraine.
We will remind, Poroshenko also said that NATO membership is important for the security of Georgia and Ukraine.
Comments
comments