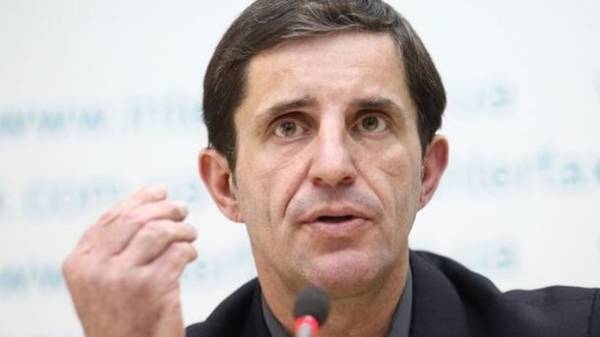 The blame for the crash of a Malaysian aircraft "Boeing 777" MH17 lies not only the Russian military, but also directly on the President of the Russian Federation Vladimir Putin. This opinion was expressed on air of TV channel "112 Ukraine" the adviser to the interior Minister Zoryan Shkiryak.
In his opinion, led the operation from the Russian General staff.
"Undoubtedly, the order for the Downing of the "Boeing" and use anti-aircraft missile launcher "Buk" was given from the General staff of the armed forces. Obviously. I think that there is any doubt can not be", – said Shkiryak.
Read also: Russia detained the Colonel of GRU involved in the crash MN17
In addition, he believes that the suspects in the plane crash could be tried in the Hague in absentia, k5ak, Russia still will not give its military.
"I can judge in absentia? Yes you can, because the perpetrators are located directly on the territory of the Russian Federation, both the performers and customers, I am convinced, therefore, it is absolutely adequate to the situation, because we understand that it is unlikely that Russia will give out its troops. Moreover, the blame for MH17 lies with the President of Russia Vladimir Putin, which is the main reason for what is happening in the East of Ukraine, and, of course, it was on his direct orders were carried out a direct Russian aggression against our territory. Actually the delivery of the Russian arms, on his direct orders as commander in chief of the armed forces," – said Shkiryak.
As recently it became known that the suspects in the collapse of the Malaysian "Boeing" MH17 will be tried in the Netherlands by local laws. The decision on the venue of the trial was jointly adopted by the countries of the International investigation team, the Netherlands, Ukraine, Belgium, Malaysia and Australia.
We will remind that"Boeing-777″ Malaysia Airlines, carrying out flight MH-17 Amsterdam (Netherlands) – Kuala Lumpur (Malaysia) was shot down in the skies over the Donetsk region on 17 July 2014. On its Board there were 298 people, they all died.
Created an international joint investigation team, composed of prosecutors and representatives of other law enforcement agencies of Ukraine, the Netherlands, Belgium, Australia and Malaysia, as well as representatives of Eurojust, on 28 September 2016 in the Netherlands, presented the results of the criminal investigation into the causes of the disaster.
Comments
comments