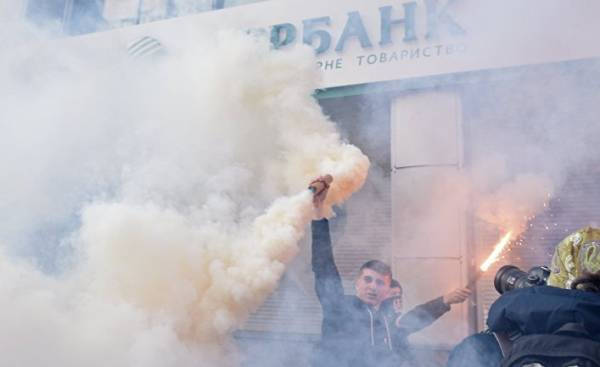 Quickly, blatantly destructive. Or — after all- this is another special operation? But who is it, and how organized everything? Pre-sales "training" looks too perfect and thoughtfully. First, a hard physical blockade of the offices by the radicals. Second, rapidly growing large-scale media hysteria. Sberbank initially tried to defend themselves… "Lipetsk-Rostovski" joke, but quickly broke down. Thirdly, lightning-fast dissemination of information on BEAC as "principatele"… LDNR fake-passports. And fourth, the outcome of restrictive sanctions by the NBU.
All of this suggests a clear synchronization and good promobyudzhetom operation on "sale". And in a few days selling, a strange thing happened "Latvian-Belarusian" the consortium said Gutseriev and Grigory Guselnikova. While a senior partner in a Duo called exactly Gutseriev, son of the legendary Mikhail Gutseriev, once a major oil player in the markets of Russia and Belarus. However, the said in the background, there is a simple such a line — Glencore.
So, this modest "a Swiss trader" recently entered the capital of Putin's main diamond Rosneft, which in turn is the sole right of "closest friend" Igor Sechin. A powerful player. And like puzzlic easiest Gutseriev, Sechin, cynical sale of Sberbank Gref's… But. All just not so. Much more interesting of a minority party to the transaction — Grigory Guselnikov. The man is very cunning. Just a few years ago he actively developed… "Vyatka-Bank" were considered only one of the "shemschikov". But when the global financial monitoring has become hard to check the Russians (due to pasicrisie sanctions), Guselnikov quickly acquired Norvik banka and turned it into a perfect "sink" for money Russian commodity oligarchs. It seemed that the BEAC he just provided a "sink". And again, just not so… Guselnikov is also the owner of some real estate… in London. Among other things, by a strange coincidence, One Hyde Park (which by, as Akhmetov has nothing to do with). But was also accompanied by the acquisition… Victor Pinchuk, his "Kensington house №17 on the upper Fillimore gardens.
Now the casket is open… Author of the brilliant ideas and her financier Viktor Pinchuk (his right is loose 350 million, paid by Kolomoysky). The structuring of the transaction were engaged in Guselnikov (who have their own money). Gutseriev will provide the permission from "Moscow curators" (for equity). Otherwise Gref would not have approved the deal. But the entire power logistics provided… Arsen Avakov (small equity). And by the way, I was wondering how he was going AFTER a legit global elite…
The question surprised: how such a delicate operation deaf boys P. A.?…
Comments
comments