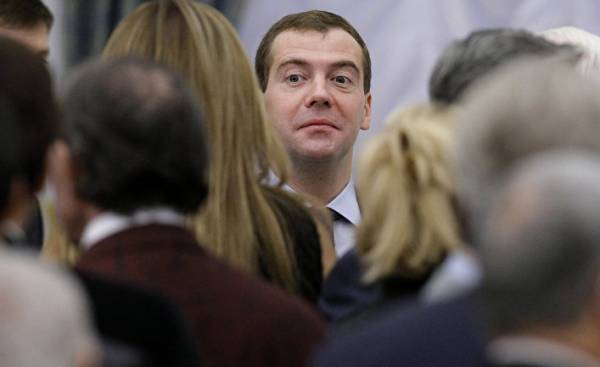 Russia's rating in the eyes of voters is not so important. Important rating in the eyes of Vladimir Putin. It's not even the fact that Medvedev does not go over the regions. You never know what might be the case with the Prime Minister. He can ride and can not ride. He has a huge number of fundamental problems in macroeconomics that can be settled in the heart and are there to be solved. Therefore, the accusation that he doesn't go by region, it is true, but it is only part of the problem.
In fact, Medvedev is no, we have never seen. In the Russian media, it is simply not available. And for him it is a very bad sign. This means that it is ignored.
Sooner or later it had to happen — Putin must be something to impress the voters before the election. This is subject to all the internal politics in Russia, including the image of Medvedev.
Putin had three the surge in popularity, and all of them were connected with wars — Chechen, Georgian and Ukrainian. The fourth war will not be able to do. All around ready, all waiting and it won't be a novelty. Putin quickly nastuchat on the head, as happened in Syria. Well, there is no such victory, as he wanted to represent the Russian people before the election. Most people don't quite understand what the point of the Syrian war. That is, the military situation has exhausted itself: a small victorious warrior is no more. And you can not attack the Baltic States, because NATO is there ready. "DPR-LPR" is also impossible, it will hurt in the sense of reputational costs. Everything here is limited. So, it is defeat only in the internal information space.
There are two options — or to put Chubais, and, in fact, wedges are lined under him in the last year. Then the people will sigh happily and think that Vladimir Putin — the coolest person. Or to throw the red porch, as expected according to Russian tradition, on the rails irritated crowd someone of noble boyars. In this sense, Medvedev is also very good. Now Putin decides. The fact that he will pass Medvedev, for me no doubt. The only question is when he will do it before the elections to gain votes, or election, to declare a change of course. Although where he will change this course is also unclear.
So the fact that Medvedev suddenly disappeared and suddenly became his wonderful smile, his great pictures with smartphones and other gadgets is a bad sign for him. But it was inevitable — someone needs to sacrifice the election of the company, and now Mr Putin decides who. Him to separate himself from what is happening in the country, it is necessary to sacrifice someone. It is not excluded that it will be Medvedev. I even think that it is very likely.
Dmitry Oreshkin is a Russian political scientist.
Comments
comments