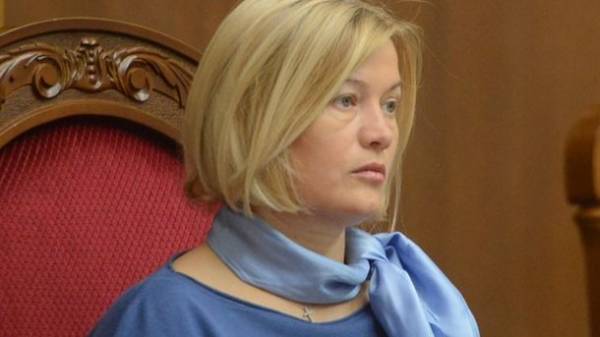 First Deputy Chairman of the Verkhovna Rada of Ukraine Irina Gerashchenko has addressed to the European and American partners to impose sanctions "lists.". She announced this on his page in Facebook.
Sanctions "list Sentsov" is named for a prisoner in Russia Ukrainian Director Oleg Sentsov. Gerashchenko offers to include in these lists all those involved in illegal detention, arrests, torture and uderzenia Ukrainians.
"The birthday of Oleg Sentsov, addressed to our European and American partners (I'm sure it's supported by all MPs) to impose sanctions "lists.", where to include all those involved in illegal arrests, detention, torture, uderzenia Ukrainians. And political prisoners of the Kremlin, and those illegally held in ARDLA (certain districts of Donetsk and Lugansk regions – Ed.)", – said Gerashchenko.
According to her, Thursday, July 13, in Kiev during the summit "EU-Ukraine" the Ukrainian side asked the European partners "to actively join in the struggle for the release of hostages, to pressure on the Russian Federation".
"This should be a mandatory requirement – the immediate release of Oleg, who occupied the Crimea waiting mother and two children, the immediate release of all prisoners of the Kremlin, an immediate release the release of hostages from ARDLA. During the final press conference the leaders of the European Union, the European Commission made statements in the Russian Federation with a demand to release our prisoners," – said Gerashchenko.
Recall that in January 2017 the US has expanded sanctions list of the other – the "Magnitsky list".
In addition, in the UK to discuss the draft law similar to the Magnitsky act in the United States, which allows courts to impose visa bans and asset freezes on Russian officials.
Comments
comments