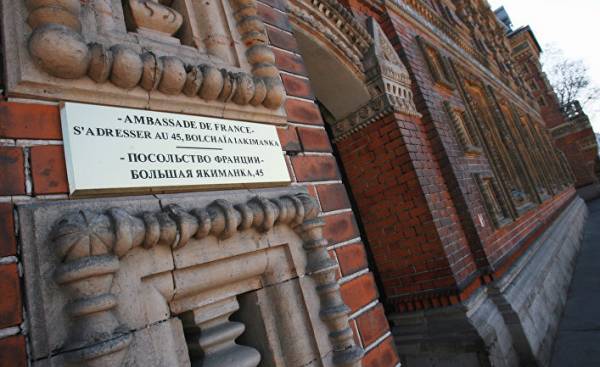 In Russia all problems are solved in two ways. Everything is possible here. Just enough to know who and how much to pay. Frenchman Simon Picot (Picaud Simon), who dreams to leave Russia, it is real good. Under certain "conditions" possible. The only difficulty for the beginner is to establish contact with a mafia-like network. French Consulate provides this service.
Simon Picot completely illegally held on the territory of Russia, in accordance with the law of this country. He has all the documents allowing him to cross the Russian border and return to France. Passport, valid Russian visa and the decision of the Russian court, confirming that all the complaints his ex-wife were rejected.
The only thing you can blame Simon, is that he's driven his father's feelings. On may 2 he came to Russia to meet with their children 5 and 7 years old, kidnapped by his Russian wife. In 2011, she left Thonon (Thonon) taking children to flee to Russia. For this she was sentenced to one year in prison. Was issued an international warrant for her arrest.
But freedom was deprived not ex-wife Simone, and him. May 16, at Sheremetyevo airport after Simon showed his passport at the border control, the officer asked him to wait. Then came the officer of the FSB, who tore his boarding pass and handed him a paper, written in Russian and English, which stated that he was not allowed to leave the territory of Russia.
Since then, Simon Pico tries to survive in Moscow. From France he sent the money so he could rent a room. He has health problems and he can't find required medicines in anticipation of the operation, which was to be held on may 27. Being an honest man, he was able with the help of a lawyer to exercise your rights under laws established by the Russian justice system. This is a very time consuming procedure, but in Russia it is not enough.
Russia — the mafia country. Officials of all agencies provide parallel services, allowing any applicant to resolve the problem quickly. During Putin's rule, corruption has got its own structure and hierarchy. For example, recently, in the house of the Colonel of militia was discovered cash in the amount of nine billion rubles. This senior official played the role of a banker from the police. It gave competitors are dissatisfied with the distribution of profits. Another personal example: one of my friends closed the fabricated case against his son criminal case for 25 thousand euros. In Russia on bribes there are unofficial fees. In the jargon, this means to give a "rollback" or "return." Innocent my friend's son was threatened with four years in prison. The bribe amounted to 25 thousand euros. In every Department there are people providing such services. It is sufficient to call to find out the price to pay — and it's in the bag.
But back to our honest Frenchman Simon Picot, podajnikiem in Moscow. He can't leave Russia because his name was illegally entered into the database of the FSB and appears in the list of people forbidden to leave the territory of the Russian Federation. Three times he bought a new ticket and present it at the border control point in Sheremetyevo and three times he was denied. It is necessary that the FSB complied with a court order and removed his name from the database. His lawyers suggest to make a fourth attempt. But you can try endlessly.
The FSB is the mafia organization. Former FSB agent Alexander Litvinenko was poisoned with polonium in London, because he knew it. Simon Picot need to find contacts in the organization, but rather to find a particular person, who calls him the price of "services". Suppose we have found the answers to the questions: "Whom and how much?" Need to contact someone from this organization. The mediator will be the French Consulate in Russia. Its representatives will host a meeting of Simon Picot and Mr Grib (Grib). Mr. Mushroom will bill: two thousand euros to him and five thousand person from the administration.
Here is the text of the letter sent to Simon Picot Consulate of France:
"On your question, I inform you that yesterday we again contacted Mr. Mushroom. He said that after several informal meetings was agreed to remove the name PICO from all official databases. This can happen in the near environment. Thus, Mr. PICO can fly home on Thursday.
Mushroom asks him to pay two thousand euros for almost ten working hours, four meetings and numerous telephone conversations over the past 10 days. The administration needs to pay five thousand euros.
I understand that we are talking about serious amounts, but I warned about this in advance. I was asked to speed up the process of departure from the territory of the Russian Federation.
I would be grateful for the transfer of this information to the person concerned. You can send him this letter in the form in which it was received. For its part, I have already contacted the Russian lawyer of the person concerned and told him all the information."
Simon Picot was outraged by this extortion, but not the legal officials of our state. Here is their response:
"You made concerning the proposals about which I spoke to you yesterday on the phone, the Consulate General does not intend to interfere in private transactions. You can decide to accept the offer or not. The Consulate only gave you that information. No further comments on this issue will follow. Leave it up to you to choose."
The Consulate acts as a broker mafia network of the FSB. It holds on its site meeting with a representative of the FSB and passes sentence on racketeering victim. As the porters of Luggage, who would rather pretend do not know that in them is, our officials do not know how to read and do not understand what is written in black and white: "the administration asks to pay five thousand euros." Our representatives in Russia have adopted the habits of Russian mafia?
I believe that we need to organize a public opinion poll relating to moral principles and honesty of employees of our representative office in Russia. Since when our officials began to behave? What they have in common with Mr. Mushroom, the Russian mafia and their President Vladimir Putin, whom our President calls "Vladimir"?
Comments
comments