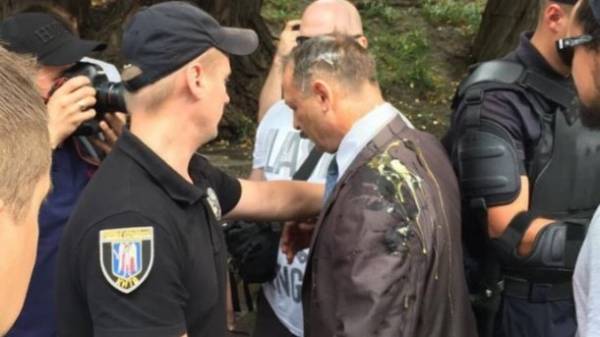 The people's Deputy from BPP Oleg Barna was attacked by the Verkhovna Rada of eggs due to the failure to vote for the removal of immunity of his colleagues. About this Ukrainian Pravda said an eyewitness of the incident.
According to her, the bone of contention was the question to the politician why he did not support the removal of immunity of deputies
"Automaidan blocks the passage in the Verkhovna Rada on the street Grushevskogo up from the Cabinet. Barna left the building Happy. Activists stopped him and asked why he did not vote for the removal of immunity of deputies and arrest", – the activist reported.
According to her, Barna began to insult the activists of abusive words in response to his flying egg.
See also: Entrances to the Parliament blocked: police and tow trucks and gas cans could not prevent
It is noted that during the vote in Parliament according to the beliefs of the GPU MPs, Barna refused to support the arrest at Maxim Polyakov and abstained on the same subject by Borislav Rosenblatt.
As reported earlier today, under the Verkhovna Rada gathered a lot of people. Later a peaceful Assembly turned into riots with the use of smoke grenades and clashes with police.
Comments
comments