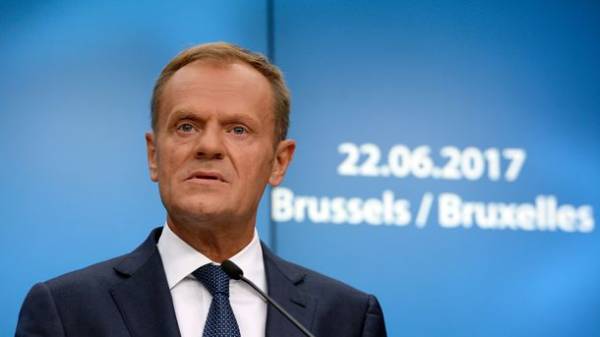 The EU does not recognize the illegal annexation of Crimea and calls on Russia to fulfill the Minsk agreements. This was stated by the President of the EU Council Donald Tusk.
"We support Ukraine in fight against Russian aggression. We do not recognize the illegal annexation of Crimea and call for the implementation of the Minsk agreements by all parties and stress the Russian responsibility in this regard," he said.
Read also: Poroshenko: Russia is a blatant and cynical aggressor
Tusk also reminded that yesterday the EU finally ratified the Association Agreement with Ukraine. It will enter into force on 1 September. The commercial part, which entered into force last year, has already increased trade among our countries by 25%. Fully ratified, the agreement will allow in the future to strengthen our cooperation and to deepen political Association and economic integration of Ukraine into the EU. The European Union notes the desire of Ukraine to Europe and welcomes Ukraine's European choice", – he said and gave the President of Ukraine Petro Poroshenko, the final decision on ratification was signed.
Earlier , Donald Tusk announced that the aggressor not to beat Ukraine.
Comments
comments