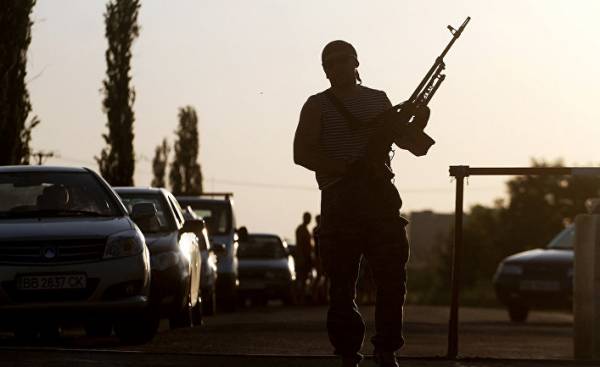 The conflict in Ukraine lasts for four years. Killed more than ten thousand people. Hundreds of prisoners remain in the prisons of the SBU and the so-called Pro-Russian DND and LNR. Hundreds of people have become hostages of war, and the exchange of prisoners became a matter of slow negotiation.
Which bring the Minsk agreement, ask many, if the fighting continues. On Saturday, Chancellor Angela Merkel, Russian President Vladimir Putin and President of France Emmanuel macron on the sidelines of the summit of "Big twenty" to discuss the situation in Eastern Ukraine.
Svetlana Ageeva will sit in front of the TV. She knew the war only from the TV — so it was until recently. The phone rang, the journalist reported that her son, 21-year-old Victor, was captured by Ukrainian troops near Lugansk in Eastern Ukraine. English teacher in a public school and lives in a village near Barnaul in the Altai, in 3600 kilometers from Luhansk region.
Her son, a Russian corporal, according to media reports, he fought in the brigade of the separatists. Officially, Russia is, as before, is not a party to this war, but Moscow, as before, provides financial support for the people's republics, supplies arms to the separatists, and as demonstrated by the case Ageeva, sends and soldiers.
SPIEGEL ONLINE: Ms. Ageeva you maintain contact with your son?
Svetlana Ageeva: No. I only know what is reported. Ukrainian television showed photo documents of Victor. It is in Starobelsk, to the North of Lugansk. I hope he's well treated.
— When You saw Victor last?
In March (sighs deeply).
Then he took the train going in the direction of Rostov-on-don for further service in the army. It was March 18.
— Why your son wanted to stay in the army?
— He liked it. In contrast to the 90 years in the army, is order. So I'm not particularly worried, unlike my eldest son. In our country many young people today, after finishing the military service I want to stay in the army. They earn money, is prestigious.

— He talked about the army?
— No, never anything specific. I thought he'll ever do, tell me where it is in which division.
He's never been out of contact?
— Once a month — either a short call or the last time, short SMS. "All right, all right", — he wrote. Since I haven't heard from him. I thought he was in Russia, is here, in the Russian army.
The Ministry of defence says it is not.
— Honestly, I don't know exactly what is true, what to believe. I never thought he was in the Ukraine, we (Russian — approx. ed.) here. While I just don't understand much.
— What do you mean?
— I watch a lot of TV. News on the first, second and fifth channels. I know that there is a conflict between Kiev and the Donetsk and Lugansk regions in Southeast Ukraine.
— Judging by the programs on public television, for the war is responsible, first and foremost, Kiev. What do You think?
— The conflict never happens that blame only one side. To resolve the conflict, both sides need to make efforts. Who is to blame? It is difficult to assess. The Minsk agreement to be performed, we constantly hear in the media.
— What do You think about this war?
— What I think of her? (pause, picks up words) it is Terrible that people are killed. We expect that policy finally finished it. We are very closely connected with Ukraine, where we have distant relatives, it's all very sad. It should not be, no.
On Saturday Putin met with Merkel and Macron to discuss the situation. What are your hopes?
— Of course, I hope only for good, but it's hard.
— You appealed to defense Minister Sergei Shoigu and foreign Minister Sergei Lavrov with a request for support. You someone contacted?
— No. No. I just saw on TV that the foreign Ministry spokesman said that every effort will be made to have my son back. I really hope that the government will help us.
— Are not you afraid to speak so openly about your son who is fighting in the East of Ukraine? The official line, however, States that Russia is not there.
— Do you think, should I be afraid? I am only talking about how it really is. I hope to help.
Comments
comments