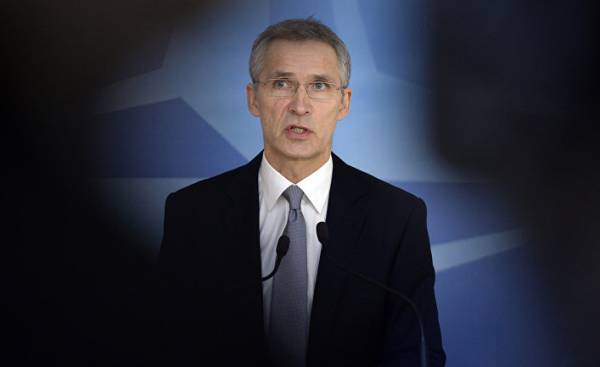 NATO Secretary General Jens Stoltenberg in an interview to TV channel "112 Ukraine" told about the prospects of Ukraine's accession to the Alliance, according to this issue from the positions of Moscow, the responsibility of Russia for the annexation of Crimea and aggression in the Donbas.

"112": Ukraine and NATO began a dialogue regarding the plan of action on membership in the Alliance. From your previous experience, how much Ukraine will take years to fulfill all the conditions and submit such a request?
Jens Stoltenberg: The main thing for Ukraine is to focus on reforms. To modernize its defense institutions, to adopt NATO standards and to fight corruption. And this is important, regardless of membership in NATO. Because it will strengthen the state, the ability of Ukrainian and NATO forces to work together. President Poroshenko raised the issue of the action plan regarding membership. Allies have taken note. But we have an internal discussion about this. In my opinion, this is important. And Ukraine is the mechanisms, and she has to go to NATO with what we call "substantive partnership", and we can do much more together. It is important to focus on actions — how to strengthen the Ukrainian defense institutions, to assist in the modernization of the Armed forces of the country, and that is what we need to focus on now.
— Do you think three years is enough for this?
I wouldn't speculate on time frames. But, of course, Ukraine will decide where it goes. My message is that the question regarding membership should decide 29 allies and Ukraine. And no one else should interfere in this process. And I emphasize again — reform, modernization, fight against corruption, according to NATO standards. It is important things they should pay attention. It is important for NATO, for Ukraine, regardless of membership.
— Relations between NATO and Russia… What the Alliance expects from Moscow and what concessions is ready to go himself?
— The NATO approach towards Moscow, towards Russia is what we call a "bilateral approach" is, above all, durable protection, collective protection, which deserves the trust, but at the same time political dialogue. Because Russia is our neighbour, and it will not go away. And so it is important to speak with Russia, especially in conditions where tensions are growing. It is important to speak on topics such as the Minsk agreements, the Minsk agreement, their implementation. This is what we call a "political dialogue". But also to address issues of transparency and risk reduction. There is significant military activity, training, which is carried out along our borders. NATO warns wants to avoid any incidents that could lead to the fact that the situation gets out of control and create dangerous situations. All this requires dialogue with Russia, but the dialogue does not mean weakness. For us it is a sign of strength, by which we speak with the neighbor.
Press Secretary of Russian President Peskov said that granting Ukraine the action plan regarding membership in NATO will promote security in Europe. How does NATO react to such statements?
— The case of Ukraine — to decide. It is the sovereign right of every nation. And nobody should try to change the system of spheres of influence in Europe, to decide for neighbors what they can and cannot do. And issues related to membership should be decided by the allies and Ukraine, no one else.
— In the Ukrainian defense Ministry say about the threat posed by large-scale Russian-Belarusian military exercises, planned for September, and for Ukraine. As NATO assess such risks?
We will observe the teachings of the "West". All countries have the right to train its Armed forces, but for us it is important that it was predictable and in accordance with international obligations. In particular, signed at Vienna documents — this agreement, which, in particular, Russia has agreed on a transparent monitoring of large-scale military exercises. We call on Russia to respect the Vienna agreement, which contributed to comply with the transparency and predictability of military exercises. NATO sees no direct military threat to any of the countries participating in the Alliance. But we see that Russia is responsible for the aggressive actions against Ukraine, annexing the Crimea and also destabilizing Eastern Ukraine, and we call on Russia to withdraw all its forces from there. In Eastern Ukraine are thousands of Russian soldiers, they should be set aside. And Russia must use its influence on militants to ensure the full implementation of the Minsk agreements.
— You were in Ukraine in 2015. What has changed since then?
— What I see is a serious commitment to reform, a serious willingness to fight terrorism. But I recognize that's still a long way ahead. Also something to congratulate, is a certain economic improvement. And it is necessary to progress in the social sphere and the economy, at a time when you are suffering from aggression. I'm impressed with the progress made by Ukraine in such a difficult period.
— Thank you!
Comments
comments