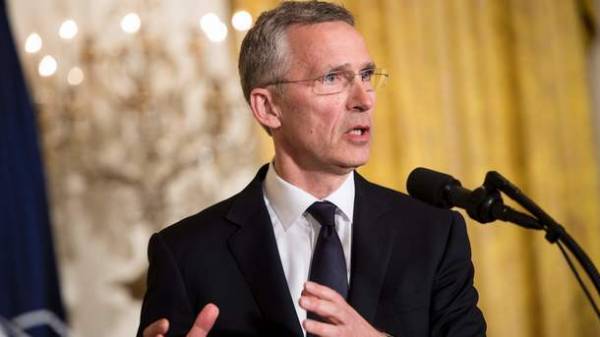 Ukraine will receive from NATO equipment for satellite communications. This was stated by NATO Secretary General Jens Stoltenberg at the joint with the President of Ukraine Petro Poroshenko briefing.
According to him, the Alliance is helping Ukraine to investigate incidents of cyber-attacks.
"Now we are working to give Ukraine the equipment of satellite communication. In recent days, we have provided Ukraine with modern equipment for cyber-security help key government institutions to better investigate incidents in the field of cybersecurity is similar to the one that recently occurred. Using 10 different trust funds, NATO countries have allocated almost 40 million euros in support for Ukraine in such areas as command and control, cyber defence and medical rehabilitation, " – said the NATO Secretary General.
Read also: Ukrainian foreign Ministry first to receive cutting-edge systems cyber – Gritsak
"It's a partnership where we support each other. NATO provides significant political and practical support for Ukraine, and Ukraine also provided support for NATO. And we are grateful to the Ukraine for the fact that it makes a contribution to all NATO missions – Afghanistan, Kosovo, the Mediterranean. The partnership between NATO and Ukraine is strong and mutually beneficial. We strengthen each other", – said Stoltenberg.
As told Petro Poroshenko that NATO membership a priority for Ukraine. According to him, Ukraine intends to join NATO, but first must go through a reform process that meets the standards of the Alliance.
Comments
comments