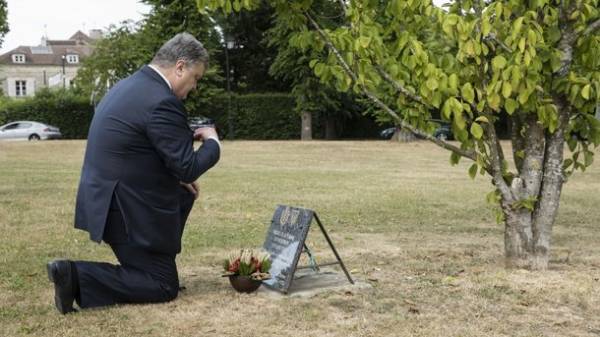 During the working visit to the Republic of France, President Petro Poroshenko visited the city of Senlis, where he honored the memory of victims of Holodomor in Ukraine in 1932-1933 and laid flowers to the Memorial plaque, the TV channel "112 Ukraine".
Memorial plaque to the victims of the Holodomor was set in Senlis in 2008 on the occasion of the relay unquenchable fire of famine, which took place on 19 August 2008 the cities of France.
Board located in one of the historic squares of the city – the square of the ancient Roman Arenas (place des Arènes). Next to the memorial plaque was planted a Magnolia tree.
Since that time, every year in November in the framework of the official events celebrating the anniversary of the Holodomor memorial plate to lay flowers at the Embassy of Ukraine, the Ukrainian Church and the Ukrainian community with the participation of official representatives of France. Honoring the innocent victims of Holodomor every year in may on the occasion of the Days of Anna Yaroslavna in Senlis.
A monument to Kiev Princess, who in 1051 married king Henry I and became Queen of France, is on the same square as a Memorial plaque to the victims of the Holodomor.
Comments
comments