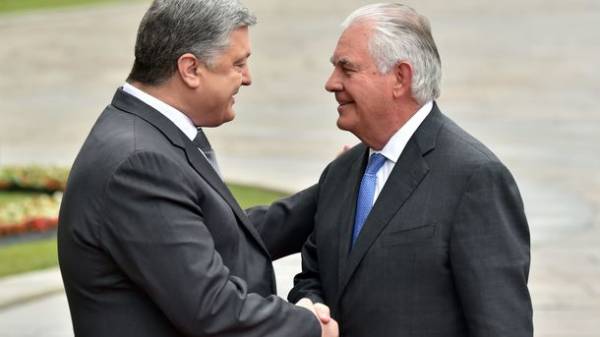 The President of Ukraine Petro Poroshenko and U.S. Secretary of state Rex Tillerson coordinated actions on further steps to resolve the situation in the Donbass.
"Immediately after the talks in Hamburg at the summit of "Big twenty" today, we are very thoroughly briefed on what is discussed, coordinated our future steps, (…) what to do with Russia's behavior of violating the Minsk agreement and reimplementations clear and direct steps to de-occupation of Ukraine and to bringing peace to the Ukrainian land", – said Poroshenko at a joint briefing with U.S. Secretary of state Rex Tillerson on Sunday in Kiev.
As earlier reported, Tillerson also said that the United States will not lift sanctions against Russiauntil the Kremlin does not release the temporarily occupied territory of Ukraine.
Comments
comments