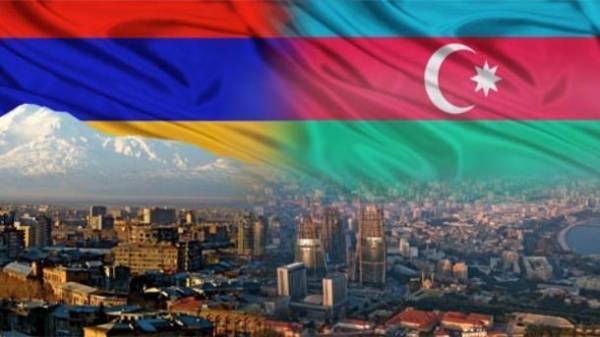 Army of the Republic of Azerbaijan inflicted pinpoint strikes on the positions of the Armenian armed forces, the embattled. It is reported Haqqin.az, citing the Azerbaijani defense Ministry, the TV channel "112 Ukraine".
"In order to prevent the impending provocations of the Armenian armed forces, the Azerbaijani army carried out pinpoint strikes on enemy forces," – said in the message.
So, as a result of the operation of the Azerbaijani army carried out on the front line in the Fizuli direction of Khojavend (most of the area actually controlled by the "Nagorno Karabakh Republic"), destroyed a large amount of manpower, destroyed several military vehicles and military infrastructure.
In Baku claim that the Armenian side prepared "another provocation". According to the defense Ministry, armed groups based in the territory of the unrecognized Nagorno-Karabakh Republic, 130 times over the past day were violated ceasefire, says the BBC.
In the unrecognized NKR defense Ministry confirmed the information about the armed clash on Friday morning. According to authorities, three soldiers of the Karabakh defense Army were wounded during attacks by the armed forces of Azerbaijan. The Department argued that Baku has been violating the cease-fire, using small arms and guns D-30 and D-44, mortars of various calibers and grenade launchers.
The defense army of the Nagorno-Karabakh Republic is composed mainly of ethnic Armenians, and is closely linked with the armed forces of Armenia, which helps her with arms and military equipment.
The situation in the Karabakh conflict zone escalated on 4 July, when Azerbaijan accused the Armenian military in the shelling of the village in the Fizuli region. According to Baku, the shelling killed civilians, including a child.
The conflict between Armenia and Azerbaijan started over Nagorno-Karabakh in 1988, when the predominantly Armenian Nagorno-Karabakh Autonomous oblast declared its withdrawal from Azerbaijan SSR.
In may 1994, signed a ceasefire regime between Armenia and the breakaway Nagorno-Karabakh Republic on one side and Azerbaijan on the other.
However, since in the region of Karabakh are constantly fighting.
In April last year during the so-called "four day war" killed more than two hundred people from both sides.
The conflict ended in a truce, but after that, the shelling continued throughout the year almost daily.
As reported in Azerbaijan have conducted large-scale military exercises.
Comments
comments