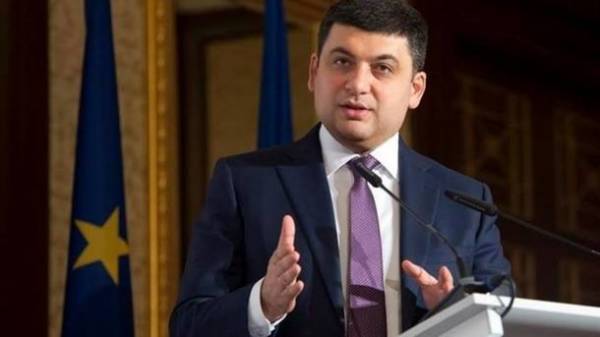 The bill of privatization in Ukraine, approved by the government this week and directed prior to submission to Parliament on the national Council of reforms under the President, will allow investors to obtain protection under English law. This was stated by Prime Minister Vladimir Groisman.
"We have implemented such rules that allow us to enter into the privatization process of English law. This will mean that we will provide both transparency and competitiveness, and investment protection that go to Ukraine", – said Groisman at a press conference in London on Thursday, 6 July.
The head of government stressed the importance of the resumption and implementation of public investments in the public sector, by including the sale of assets.
Groisman noted that this year, the Ukrainian economy is showing growth of approximately 2%. He added, referring to a recent study by the European business Association (EBA) that investors ' optimism has returned to the level six years ago.
As reported, we expect the EBA six months, the investment attractiveness index in the first half of 2017 has increased from 2.85 to 3.15 points from 5 possible, which is the best figure since mid-2011, when it stood at 3.39 points, and then immediately fell to 2.56.
According to a recent study, while only 13% of businesses considered the investment climate in Ukraine attractive, while the opposite view is held by 54%. While six months earlier, this ratio was 9% to 67%.
Among respondents 38% consider Ukraine to be a profitable market for investment in the next 6 months – that's twice the number of opponents of this opinion.
Among the main improvements survey respondents identified:
liberalization of the foreign exchange market;
the openness of public data registries;
gradual deregulation;
a notable development of electronic services (in particular, the electronic system of VAT refunds);
the simplification of procedures for obtaining permits for construction;
the moratorium on inspections.
Most of all, the investors were dissatisfied with:
the lack of significant changes (20%);
corruption (19%);
the slow pace of reforms (15%).
We will remind, Boris Johnson also announced the availability of signals that anti-corruption reforms in Ukraine isn't going fast enough. "There is a clear signal that anti-corruption reforms in Ukraine stalled," said Johnson.
However, the British foreign Secretary noted the progress of reforms in Ukraine in the last three years.
As reported , Ukraine is preparing the legal framework to the privatization of the state enterprise "Ukrspirt" and relies on the sale of Odessa portside plant.
Comments
comments