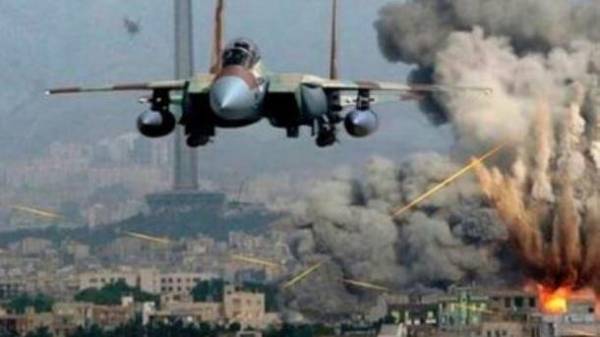 Modernized strategic missile-bomber Tu-95МСМ long-range aviation of the Air-space forces of Russia launched 5 July 2017 strikes by cruise missiles of air basing (krwb) X-101 on the objects is prohibited in the Russian terrorist group "Islamic state" (IG). Destroyed three large warehouses with weapons and ammunition, according to the Ministry of defense.
"July 5, the strategic missile carriers Tu-95MS took off from the Engels airfield on the territory of the Russian Federation, made a flight with refueling in the air and attacked the latest cruise missiles X-101 on the terrorist group ISIS on the border of the provinces of Hama and HOMS (Syrian Arab Republic)", – stated in the message of the defense Ministry.
It was said that "the strike destroyed three large warehouse of weapons and ammunition, as well as a command post of terrorists near the town of Akerbat, which is confirmed by data of objective control". Strikes with precision missiles X-101 were performed with the range of about 1000 km.
Cover strategic bombers Tu-95МСМ carried out multi-role fighters su-30CM and su-35S from the air base Hamim. After a successful combat mission all the Russian planes returned to the airfield.
According to a video posted on the defense Ministry's official YouTube channel, the operation was attended by two Tu-95МСМ, each of which used two krvb X-101 placed on okolofutbolnyh underwing launchers devices the DLC-5M.
According to the Agency and open sources since the beginning of operations in Syria, the Russian Armed forces used more than 160 cruise missiles, air-and sea-based.
Air and space forces from November 2015 fired on targets of terrorists in Syria more than 95 krvb Kh-555 and the latest X-101. Data carriers aircraft weapons (TSA) are strategic bombers Tu-160M, Tu-95MS and Tu-95МСМ. The bulk of the strikes using precision came in November 2015, when it was launched 83 crwb.
In the 2016-2017 range aircraft VKS used about 15 missiles X-101 strategic bombers Tu-95МСМ. These aircraft in the framework of the modernization work was additionally equipped with four double under-wing launchers APU-5M to start the latest krvb X-101.
Missiles X-101 were used during the Syrian operations before. In particular, 17 Nov 2016 Tu-95МСМ first used the aviation ordnance during operations in Syria.
Comments
comments