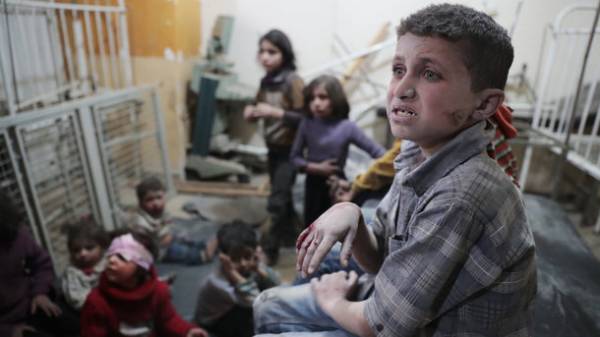 Representatives of the Russian Federation at the meeting of the Organization for the prohibition of chemical weapons (OPCW) on the chemical attack in the Syrian Khan Sheyhun (Idlib) made an important recognition regarding the use of sarin gas. This was announced by the British delegation to the OPCW, transfers "112 Ukraine".
According to the delegation, Russia acknowledged the use of sarin or similar substances during a chemical attack in Syria. In addition, representatives of the Russian side noted that they have no reason not to believe the conclusions of the OPCW.
According to a report by the OPCW, the history of the Syrian government regarding the use of chemical weapons on 4 April 2017 was changed several times to fit the new facts.
"At first it was a blank denial of the use of sarin, and April 4 they (the Syrian government – Ed.) just told an unusual story about the air strikes on the alleged store of chemical weapons for jihadists who, according to them, did sarin. As we know, sarin is a relatively complex agent to development and production, and there is no reliable evidence that someone in Syria has the capability to produce it", – the document says.
It is known that later the Syrian government has handed over the samples it received from the scene, and found that the sarin was really used. But now the Syrian government is trying to discredit the report.
In this regard, the Executive Council of the OPCW stated that it did not intend to shut eyes to such violations of the chemical weapons Convention. According to the report, the Council will strongly resist the use of chemical weapons and all those responsible are brought to justice.
In addition, the UK intends to provide additional funds to support the work of the OPCW in Syria.
We will remind, the town of Khan Shaykhun the southern Syrian province of Idlib was subjected to a chemical attack on 4 April 2017. This was reported in the London Syrian monitoring centre for human rights (SOHR). According to human rights activists, the result of himataki killed more than 80 people.
The TV channel Al Jazeera and the Turkish news Agency Anadolu on April 4 reported by other victims, citing a statement by the Minister of health of the provisional government of the opposition in Idlib Firas al-Jundi: more than 100 dead and 500 wounded.
Comments
comments