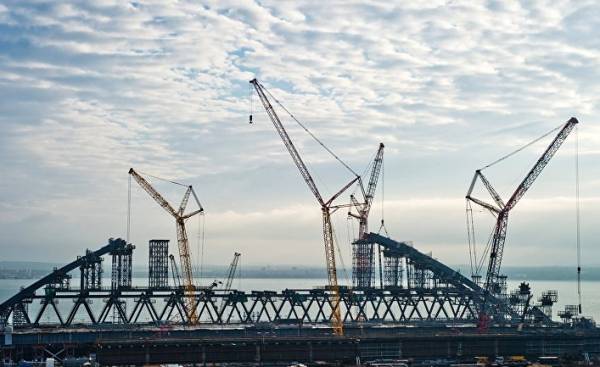 "The silk road" is often called overly ambitious, and Ukraine's participation in the project — not more than a gamble. However, the Ministry of infrastructure still see good prospects, although, of course, and long-term. And in General, the cooperation with China Ukraine has high hopes: plans to attract billions of dollars of investment. This is what we said in an interview with the Deputy Minister of infrastructure of Ukraine Viktor Dovgan will. In addition, raised the serious problem of the Kerch bridge, which threatens the work of the Ukrainian ports.
"Observer": I Know that you were recently in China. What Ukraine can expect? How many investments can attract?
Viktor Dovgan: the Possibilities are huge. We have already started with China a completely new project — the construction of a bridge near Kremenchug. This project is significantly different from what was done in 2010-2012. First, the interest rate is quite different: previously, loans were provided under 6-5%, now at 2-3%. Second, a very different approach to component, then 50: 50, now only about 20% of the Chinese contribution. It is clear that rubble to pull out of China they will not. This is the maximum technique, which then will remain on the balance of Ukravtodor. And their employees, they also do not bring, because the salaries are slightly higher than ours. Will only some managers from China.
Ukraine has registered the representative office of China road and bridge company. This is one of the largest companies in the world. She wants her first project in Ukraine was the hallmark. She wants to implement it within 3 years very efficiently. Already have a concept of the project, I hope to adopt it in the next month or two on the Commission of investment projects. All approved and at a high level in China. Sign a contract — and on the shroud, in October, bury the capsule under Kremenchug, and in the spring start to work. The project is good, necessary.
Another interesting project — "the road" Odessa-Nikolaev. Now China is working on the concept with Ukravtodor. At first we thought that this would be the Odessa district road, but there are some problems with the ground. I think this will be the next project that we jointly announce. Also hope for a concession with Chinese investors regarding train ferry in the Black sea. For this reason we will in early July to negotiate. This is a very systematic project. And that is important, it is not credit, and direct investment.
— And how much is planned to attract in the next 5 years?
— Thought that our team during the year attracted a billion dollars. Need to set even more ambitious goals: next year I hope to attract 2 billion. It is absolutely real. For this we drive through the fields, collect the projects. By the way, another extremely important area is raising funds to upgrade commuter trains. It's just pain, nothing was done for 20 years.
Is a nationwide project?
— Yes, you should at least start with 100 million euros, to start the normal rolling stock (about 20 trains).
— A pilot area already defined?
— No. In fact, the project itself is in a state of concept. That is, until our inquiry, the government's position. We still have to calculate everything to coordinate. But you have something urgent to do, because rolling dies — 95% in poor condition. But many, strangely enough, get to work on trains.
— Because it's cheap.
— Cheap and pretty fast. Therefore, it must be one of the priorities of Railways in the field of passenger development. Communication with Europe is important, but we need to look at the Hawthorn…
And how bad is it with the "New silk road"?
— I will not say that everything is so bad. Yes, it's expensive. Yes, the timing. But we have achieved consistency of supply. Already there are no such queues, as last summer. Now we have a fairly liberalized market. Previously had two monopoly route, but the Minister signed a new agreement with Georgia on the direct train connections. Now anyone can go to our approval and to work. Previously, it was much harder, almost impossible. Now Turks, the Caspian shipping company are looking to our market.
Here is the problem: we have a cargo in one direction only (in Kazakhstan, in Central Asia). Return cargo there. Cargos from Kazakhstan and China to Europe while going through Russia. But we haven't invested in infrastructure for the "silk road" — a penny. Everything happens at the level of treaties, Railways, ferry operators. For example, Azerbaijan has only one port has invested $ 400 million.
We must understand that China is very clearly sees the prospects of this route. Let's remember how to launch the "silk road". Chinese containers were empty. It is a political project. And only after two or three years, it has become economically viable. From our side, it is also political. We would not look at this project if Russia had not solved the transit. That is why we were forced to build the southern branch of the silk road.
I think that over the year much has been done. Now it is necessary to attract investors in the Black sea, which, I think, will do. It is also necessary to develop container message because cars is the past. Exporters, Railways need to invest in container Park. In two years it will work well as now in Belarus.
— That is Ukraine will be able to reach the economic feasibility of the path?
— Yes, absolutely. As soon as we have new operator in the Black sea, we need to reduce the freight of 2 thousand dollars. We can do this even by reducing port charges. Had been planning to autumn with the Georgians. Will soon go to Georgia, and we clearly agree with them.
Queues we will not be considering new ports in Baku and Kazakhstan. We have investors, so next spring should be very reference. Why we are so important to the Chinese investor in the Black sea? Because he will immediately let his load here. Besides, comes a huge Japanese company Hutchinson. All this synergy will give us the opportunity to bring the goods to Europe. We have very good prospects: China will increasingly export and Europe all to consume more. No wonder the Chinese have bought the port of Piraeus in Greece.
The Europeans, too, can not a lot of cargo to transport through Russia. And gradually excluded from the process. Already noticeable, as they are nervous. We were at a forum on the silk road in Beijing, where Putin spoke. Now, Moscow is well aware that it's not their Prime, while the main cargo goes via Russia. This Prime China. This is a huge political will to develop the way in southern Europe through Ukraine. And if we do do a quality project — don't steal money, and build something worthwhile — will come here systemic investment.
The Chinese have been burned by our predecessors. They agreed on several expensive projects, and nothing happened.
You just have to restore trust?
You just have to show the result. Ukraine is interested in China. This is evident even in how many now offer Chinese restaurants in Kiev. Many Chinese arrive to work. They two looked at us, and in 2016, we began to cooperate. On their part the decision was made. Most importantly, we did not disappoint.
— Can you do it?
— We all can. But seriously, will do everything to not like in that joke:
— Look, you see the bridge?
— No.
— And it is.
What are you going to do about the problem of the Kerch bridge? I read that Ukraine may file a lawsuit.
— Yes, but this question we bring up to the level of the Council of national security and defense. It's not entirely the competence of the Ministry of infrastructure. Here should be involved and the Ministry of justice and Ministry of foreign Affairs, and the national security Council. This is a very difficult question, especially the limit…
— Do I understand correctly that threatened the ports of Mariupol and Berdyansk? They will be blocked?
— For a while Yes.
— So we just Odessa?
And it's very scary for the region, for Mariupol. What to do next? To appeal to international courts.
— What instance do you mean?
— It can be an investment arbitrations, international court of justice. We have prepared all the documents filed on the national security Council. The decision should be taken at the highest level. This is a very serious problem. This will be another big international legal conflict.
Yet it seems there is little we can affect this situation.
We have already begun work at the International Maritime organization. This whole situation is another argument in favor of strengthening sanctions against Russia. Now we need to diversify the message to Mariupol, to develop roads and railway lines. It is necessary to redirect the money to combine this part of Ukraine with Mykolaiv, from the South, from the black sea, with Odessa.
This block will not be long-term. However, the passage will be closed for almost a month, and we need an alternative. Part of the need to send engines, so need to increase rolling stock. Now it is necessary to plan.
They specifically had this all planned when we had grain a year. A lot of cargo going to the ports. It is a loss for business, for state enterprises to foreign exchange earnings. And Mariupol and not so sweet — a city on the front line. And then there's additional difficulties.
Comments
comments