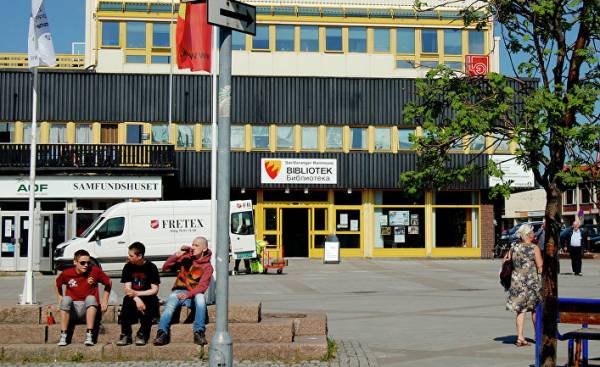 "In 2017, we gave about 20% more visas than in the same period last year," says with a smile Vegar valley in an interview with the Barents Observer. In his opinion, a positive trend emerged thanks to the rising purchasing power of Russian citizens in neighboring regions.
Prior to growth, the fall has continued since December 2013, when the purchasing power was at maximum.
Movement across the border between Russia and Norway in the North serves as an excellent indicator of economic status. Most traveling through the border — residents of the Russian Murmansk region, heading to Norway for shopping or leisure purposes.
For 2017 and 2018 Russia is projected to experience real GDP growth of 1.4%, according to the recently published report of the International monetary Fund. The economy is showing signs of recovery from recession 2015-2016 associated with sanctions, the collapse of the ruble and falling oil prices.
If the relationship East-West went down after Moscow's annexation of Crimea in 2014, but Norway and Russia adhered to the slogan "high latitude — low tension". The Norwegian boycott of political contacts with Russia were offset by upgrading the road connecting Kirkenes to Murmansk. Thanks to good roads became more and passing increased amounts of trade.
The Norwegian Consulate in Murmansk last few months have been particularly hot. For visa processing sometimes took up to 15 days. Soon the situation will change in August and all applications for visas will be sent from Murmansk to Embassy in Moscow for a faster and more flexible processing.
"Five days, — meets Vegar valley in response to the question, how much will need to expect a finished visa after the processing of the documents to Moscow. Three days plus one day on an Express airmail".
For applying for the visa, almost nothing changes except for the processing time of the query. Documents still need to submit via VFS visa application center in Murmansk, Arkhangelsk or other 22 cities of Russia, where the VFS processes applications on behalf of Norway.
Unlike other Russian citizens, citizens of the Murmansk and Arkhangelsk region can get a "Pomeranian" Norwegian visa, draws up without an invitation from the Norwegian side. The name of the visa is connected with the Pomor trade, which existed until 1917 between Northern Norway and the white sea.
Furthermore, Northern Norway is given as a rule, a multiple-entry visa. The first time such a visa is issued for a year, then two or three, and finally five, depending on needs.
Such easing of the visa regime give additional impetus to cross-border movement.
Comments
comments