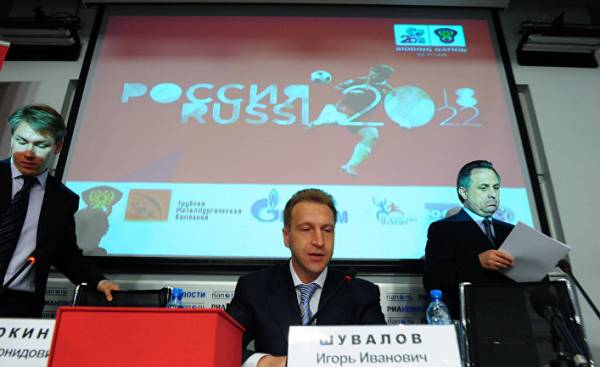 The boss looks relaxed: Aleksey Leonidovich Sorokin in an interview at the Grand Hotel Europa in St. Petersburg did not come in a shirt and jacket and red sweater. Sorokin 45 years. Previously, he headed the bid Committee "Russia-2018" and the end of 2010 directs the Organizational Committee on preparation and holding of the football world Cup "Russia-2018". He is a good Manager and a representative of the new type of Russian functionaries. In his bio, and diplomacy in Washington. It is a new strong man in Russian football. In September, Sorokin should log into the Board of FIFA as the successor of out of Vitaly Mutko, multifunctionala and Russian Deputy Prime Minister. Perhaps Sorokin will soon change it as well at the head of the Russian football Union, or get a different nice place in political administration or in the major close to the state of the company. However, all this will happen only if the world Cup next year will be to the satisfaction of the state.
Süddeutsche Zeitung: Mr Kudrin, on the eve of the Confederations Cup You said. I wanted to show Russia as an open and free country. Do You find that You did it?

Alexei Sorokin: I Think. Yes. We have shown this country that we live in modern Russia and our hospitality. And we showed it to people who perhaps would never have come here. if it were not for the Confederations Cup. By the reactions we see that the fans are very happy, they have a lot of experience and they would like to come back here.
— But for this show, it is important that foreign fans came at all. It was only 25 thousand fans. From Germany it was particularly small…
— … a few thousand…
—… many could not see. You are disappointed by this?
— What do you mean disappointed? If they did not come, then did not come. We were expecting much more, and everything was ready for this — from airports to hotels. In the same way as we do for the world Cup.
— What are the reasons?
— It's hard for me to say. You should be clearer as to why fewer fans wanted to support their team. Because, ultimately, You live in Germany.
In this regard, some Russian pointed to the alleged impact of the Western press about Russia. You too?

— In the Western press published very different views on our country. It depends on the position of specific journalists and specific media.
— Are You satisfied with the boot and the mood in the stadiums? It was common to see empty seats.

— Thanks to fans was a unique and unrepeatable atmosphere. I don't see that there were problems with the number of viewers. The matches of Russian national team and the finals of these stands were completely filled, and on other games too — 80% — 90%. By the way, in the end, it was visited the third Confederations Cup.
— When Germany played against Australia, was filled only half the seats. In addition, You handing out free tickets.

— We have thought this through from the beginning. This is the norm FIFA, which in a similar way observed in Brazil and in South Africa. We initiated a program where tickets were given to large families and the disabled. You're also handing out tickets to sport schools and among volunteers.
— During the Confederations Cup was also a heated debate on politics sports: FIFA has published the report of Garcia about the inconsistencies around obtaining the right to host the world Cup 2018 in Russia and 2022 world Cup in Qatar. As well as new data from the report of the McLaren about the Russian state system of doping. What subject bothers You and takes more?
— One of the reports I'm familiar with than others.
— With the report of Garcia, because You were the head of the bid Committee?
Yes. The report of Garcia we never cared. Because we already answered all the questions. We answered them to the press, and we answered them to FIFA representatives. We received the right to host this tournament in an honest way, this is stated in the report. What the world now knows what we have long been known, we are pleased. Other emotions we have in that respect there.
— This study is not presented, however, of great value, because to the investigators, FIFA had little information. There are a lot of questions.
— For us it is long ago finished work. I don't understand why this discussion is still going.
— Select the country to host the world Cup has never been held honestly. The Germans concluded shortly before receiving the rights to the world Cup in 2006 multi-million dollar contract with Jack Warner (Jack Warner). After the right to host the world Cup 2010 South Africa, ten million dollars sailed in Karibiku. Many of those who voted, voted, and when the 2018 world Cup was awarded to Russia, 2022 FIFA world Cup Qatar. Almost half of them among those arrested. Why the world Cup in Russia in 2018 should be the first and only occasion when everything was clean?
— It's hard to believe?
— It's hard to believe.
"Sorry." I can it's pretty simple to explain: we had very good arguments, which did not make sense to argue which was logical for the football scenes. The world Cup has never been held in Russia or in Eastern Europe, it is a new market. Russia is, on the one hand, a country with some football tradition, on the other hand, football is in need of new development. In addition, we had all the guarantees from the state. It's no secret that our head of state personally met with the leadership of FIFA and the bidding Commission and personally gave these assurances. We have the support of the state was always very large and visible at all levels.
— Case: Franz Beckenbauer (Franz Beckenbauer) was the chosen person. Eighteen months later he becomes the representative of the Russian gas company, which is subject to energy group Gazprom and the majority of whose shares belongs to the state. Do You find something strange?
— I don't think it's weird, especially since I did not participate in these negotiations. I knew about that too, when it happened and was announced. The Russian bid Committee had nothing to do with it.
— But You don't understand those people who find it outrageous?

— I can understand them or not understand. Everyone has their own view of the world. One sees it bright, the other dark. I believe when country to host the world Cup is already determined, it is not necessary to associate with it those things that happen later.
— We turn from the report of Garcia's report McLaren on doping.
— I can only say that in football, doping was never a serious problem.
But the report listed 34 cases with Russian players. Richard McLaren, a special investigator the task of WADA reports that 155 suspects. We are talking about the suspicion that the entire team won the FIFA world Cup 2014 from this system of manipulation. And McLaren showed that using this system of manipulation of positive samples indicated to WADA as a negative. Why should we believe that this is not in football?

— And why should we believe what it was?
Because it was all other sports.
— I can't speak on the report of McLaren as an expert on doping. Personally, I think — and I say this not as head of the organizing Committee, but simply as Alexey Sorokin — report McLaren is based on questionable data of a single person.
— You mean the former head of the Moscow anti-doping laboratory of Gregory Rodchenkov, who fled to the United States and provided the investigator McLaren, among others, evidence your e-mails and other documents.
— He trust or not, it's the views of each individual. I have my opinion on the matter said. As for our General position, I can only point to what I said Vitaly Mutko, and that similar statements were confirmed by the President of FIFA, Gianni Infantino: our players regularly check, when they take part in the European Championships or the world or in the games of the Eurocup. And these samples are in Russia, and is taken abroad and there checked. If you have doubts about the lab in Lausanne, it's none of my business.
But, as experience shows, these negative samples mean nothing. Former cyclist lance Armstrong during his career, passed several hundred anti-doping tests and all were negative. And after his career he admitted that all these years I took EPO, and more.

— If you have doubts about something, then there is a normal civilized way. The FIFA President said his organization will start an investigation once receives a signal, regardless of how the signal is reliable. Let's just wait for the end of the process FIFA. But I don't understand why doing now as though there is already evidence.
— Let's return once more to the Western press…
… we belong to the Western press with great respect.
— Thank you very much. But the eye catches this: in the West You are always perceived more as a quiet functionary. But now You're talking about Novosti fake and lies when it comes to doping in Russia. Before that people expected this, in fact, from the Minister of sport Vitaly Mutko.
I never said a lie or not a lie. I said only that the report is based on dubious witness. Not charges all over the country or state the system design only on the testimony of a single person. Such harsh accusations need a broader evidence base.
One more question about the sport: what do You expect from the Russian national team next year?
— I believe that our team is not currently appreciated. It seems to me that our team at the Confederations Cup proved to do as a team, not as a bunch of individual players. The players showed that they have character and they are not afraid when you play against objectively stronger teams, such as Portugal or Mexico. They have another year to prepare better and show better game.
Two years ago You said in one interview that the goal is the world Cup semi-final. It is not so?
— Our goal is, of course, the final. No: the prediction in the sports complex. Who could world Cup 2014 predict that Brazil with such a score will lose to Germany (1:7). Or Spain in 2014, so a fast departure. There are always different surprises.
Comments
comments