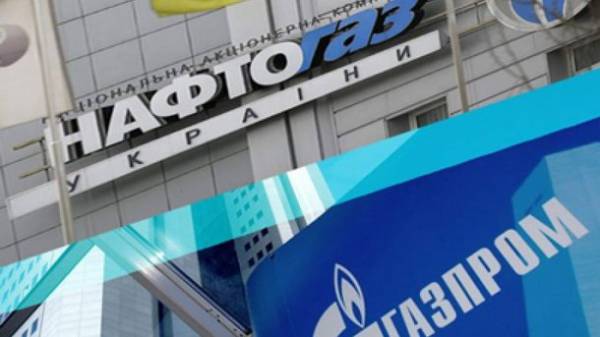 National oil and gas holding company "Naftogaz of Ukraine" and Russian gas monopolist "Gazprom" conduct negotiations on the decision of the Stockholm arbitration, which was accepted by results of consideration of the dispute between the companies the contract for the purchase of gas for the period 2009-2019 years. About it reported in a press-service of "Naftogaz".
"Naftogaz of Ukraine" and "Gazprom" pursuant to a separate decision of arbitration conducted a series of negotiations in an attempt to reach agreement on changes to the contract and final settlement between the parties in accordance with the decision of the arbitrators. The talks are held on neutral territory", – stated in the message.
It is noted that a separate arbitration decision contains the principles which must be calculated the amount of retroactive compensation for overpayments made "Naftogaz", and also the price that should apply to any volumes of gas from "Naftogaz", but not paid for in full.
"If in the course of the negotiations "Naftogaz" and "Gazprom" will not come to an agreement on new wording and determining the payable amounts, the final decision of the arbitration", – is told in the message.
As reported earlier, Gazprom said that the decision of the Stockholm arbitration on the dispute of the Russian "Gazprom" from the Ukrainian "Naftogaz" many "bright moments".
We will remind, on may 31, the Stockholm arbitration court has announced a closed decision by mutual claims of "Gazprom" and "Naftogaza". This decision was the first of several anticipated.
The court overturned the onerous condition "take or pay", according to which Ukraine had to pay 52 billion cubic meters of gas annually, regardless of the actual supply.
The court fully lifted the ban of re-export of Russian gas.
"Gazprom" to revise the formula for calculating the price, but with 2014 and not as required "Naftogaz of Ukraine" from 20 may 2011 to October 2015.
Russian media were quick to say that in this case, Gazprom will demand that Naftogaz payment for gas deliveries in 2013.
Now the parties are awaiting the financial explanations of Stockholm. The amounts that the parties must pay each other on the basis of the decision of the Stockholm arbitration, separately calculate the experts.
Comments
comments