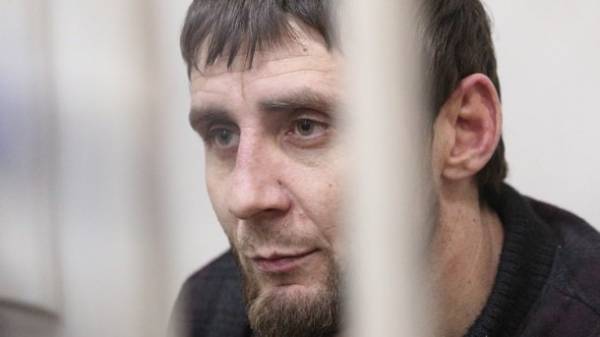 The suspect in the murder of Russian opposition leader Boris Nemtsov, a former fighter of the Chechen battalion of the Ministry of internal Affairs of the Russian Federation "North" Zaur Dadaev did not plead guilty and said that never would commit a crime right outside the Kremlin. He told about it in interview to "Rain".
He noted that he regularly turns to the Prosecutor, but there not respond.
"Understand, I am an officer, I'm not stupid to commit this crime right in front of the Kremlin. I was in the military, but at the moment of detention already quit. I wrote applications in Prosecutor's office, the Commissioner for human rights to the proceedings were fair, but nothing is impossible to achieve, writing back to my investigator. I'm not guilty, but a confession was given under torture. I was told that I'm not going out, my friend was killed during the arrest (Shavanov. — Ed.). And my friends-brothers themselves slandered (Gubareva, — Ed.). You watch the video carefully, there I'm nervous, it shows. There on the reverse side in the door was people in masks," – said Dadayev.
He also disagreed with the verdict of the jury, a decision which he believes are rigged.
"I am nothing. Brought beaten. I was electrocuted, tortured — Protocol dictates that detained the 5th, and was taken March 7th, what do you think where I was two days? I believe in Allah, all that happens is punishment, maybe I sinned too. Maybe I had cows graze and not 11 years old can run around the woods, to defend Russia. Sitting here for the biggest crime you didn't commit, a jury reached a verdict. They pushed through, and everyone who understand something, removed. And not you think it suspicious that they thought? What is there to think? 26 questions", – said the Chechen fighter.
We will remind, opposition politician Boris Nemtsov was killed in Moscow on 27 February 2015, on the Big Moskvoretsky bridge. The police arrested four suspects, among them and Zaur Dadaev. The customer of case, the consequence is called Ruslan muhutdinova. All of them categorically deny their guilt.
On June 29 of this year, the jury at the Moscow district military court is considered guilty of all five podsudimyjx the episode about the murder of Russian opposition politician.
Comments
comments