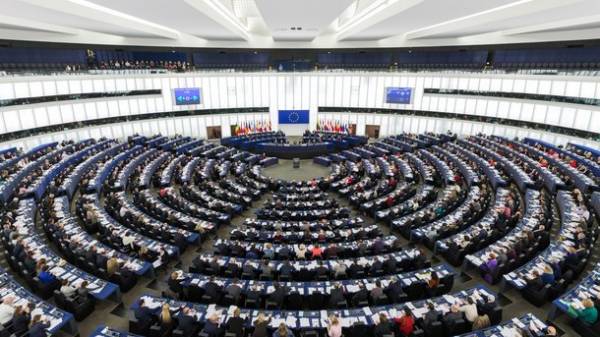 The European Parliament on Tuesday, July 4, will put to the vote the report on the granting of trade preferences to Ukraine. Appropriate issue on the agenda of the EP.
It is expected that MPs will agree to the compromise that was reached within reinstituting negotiations with the participation of the EU Council, the European Parliament and the European Commission.
However, in Parliament there was an amendment that proposed to the EC proposal fully reject.
The compromise reached in the negotiations, had previously been approved by the relevant EP Committee and the Committee of permanent representatives of member countries of the EU.
The decision, which will be attended MEPs on 4 July, should be approved by the EU Council.
See also: Quotas on Ukrainian exports to the EU are dwindling
We will remind, the Verkhovna Rada of Ukraine appealed to the European Parliament with the appeal to introduce additional trade preferences for Ukrainian goods.
Previously , the Committee on international trade of the European Parliament (INTA) endorsed the increase in quotas on Ukrainian agricultural products: honey, corn, barley, oats, cereals and processed grain, grape juice. At the same time, the deputies did not support the proposal to raise the quota for Ukrainian wheat, tomatoes and urea.
In September 2016, the European Commission has proposed to increase quotas for certain commodity positions from Ukraine. It was about the possibility of increasing the quota for corn to 650 thousand tons, wheat – 100 thousand tons, barley – 350 thousand tons, cereals and processed grain – by 7.8 thousand tons, oats – 4 thousand tons, copper – 3 thousand tons, grape juice 500 tons of processed tomatoes – 5 thousand tons.
According to the Association Agreement with the EU, Ukraine can duty to deliver to the European Union 36 headings within the approved volumes of tariff quotas.
Quotas on delivery to beef-up to 12 thousand tons, milk, yogurt, dairy products and 8 thousand tons of milk powder – 1.5 thousand tons, butter – 1.5 thousand tonnes of egg products – 1.5 thousand tons, eggs – 3 thousand tons, pork – 40 thousand tons.
The volume of tariff quotas provided for Autonomous trade preferences the EU on wheat amounted to 950 thousand tons, barley – 250 thousand tons, corn – 400 thousand tons, sugar – 20 thousand tons of honey – 5 thousand tons of processed tomatoes – 10 tons, grape and Apple juice – 10 thousand tons, oats – 4 thousand tons, garlic – 500 tons.
Comments
comments