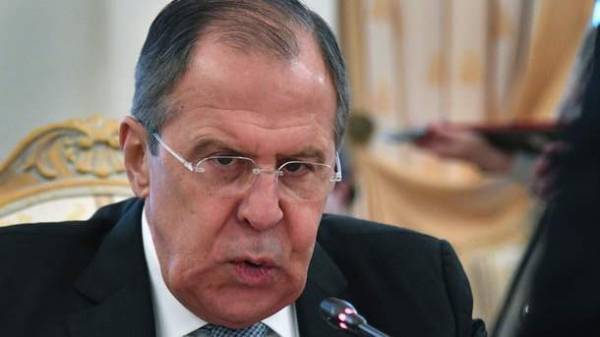 The Minister of foreign Affairs of Russia Sergey Lavrov spoke about the criticism of Russia for participation in the conflict in the Donbass and Syria.
He stated this at the second International scientific-expert forum "Primakov's readings" in Moscow, on 30 June, a transcript of which opublikovana on the website of the foreign Ministry.
During the event, Lavrov was asked about Russia's ability to compromise in international politics.
"Henry Kissinger is a phrase that Russia in historical perspective is often not compromised and received defeat on certain issues. Don't You think a number of the international agenda we are "playing out of my League"?", – the question was asked.
In response, the Russian foreign Minister has used against Russia the phrase "involved in the conflict in the Donbas."
"It all depends on who is looking at a particular situation. I do not know whether the perceived in the political community that we are "playing out of my League". I read and still hear the criticism that we knowingly got into the conflict in the Donbass, in the Syrian conflict", – quotes Lavrov's words in the transcript.
It is noteworthy that in the English version of the transcript, these words sound "decision to join the fight in Donbass and in Syria" (the decision to join the fighting in the Donbass and Syria).
Then Lavrov went on to justify military intervention in Ukraine threatened the Russian-speaking population in Ukraine, which allegedly occurred after the events of 2013-2014.
This "reservation" drew the attention of journalists in social networks.
"Yes. Lavrov really said it," – wrote the journalist of the German newspaper Bild Julian turnip on twitter.
Yep.#Lavrov really said that.https://t.co/oTvn3WcWxi#PutinAtWar pic.twitter.com/fH3HJYhaMG
— Julian Röpcke (@JulianRoepcke) on July 1 2017 R.
"Tectonic shift: the Russian Lavrov admits that Russia is fighting with Ukraine in the Donbass", – said Lavrov American journalist Julia Davis.
Tectonic shift: #Russia's Lavrov admits that Russia is at war with #Ukraine in the #Donbas region. https://t.co/j2eJ1YWafJ pic.twitter.com/LXvGYsGudt
— Julia Davis (@JuliaDavisNews) on July 1 2017 R.
As you know, Russia material and military support of the militants fighting in Eastern Ukraine against the Ukrainian government.
Russia is supplying them with tanks and other armored vehicles and anti-tank weapons and anti-aircraft missiles.
At the same time Russia does not recognize itself a party to the conflict and does not guarantee execution controlled by the separatist leaders of the Minsk agreements.
Comments
comments