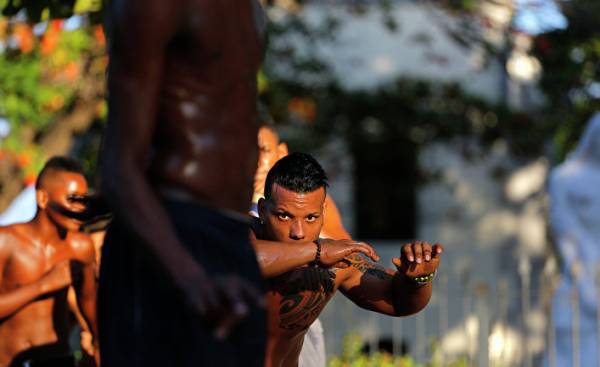 In this group of Muscovites, the word "Brazil" — magic that can open doors. When they hear Portuguese speech typical for residents of the Rio accent, everyone immediately tries to find out in what part of Rio you were born and whether or not there is on every corner in sports. They passionately want to learn Ginge, beautiful game. It may seem that we are talking about football, but really it is the fans of capoeira.
Dance, art, fighting, sport… This symbiosis capoeira winning hearts worldwide. In Moscow, she is incredibly popular and awakens the Muscovites interest in the Portuguese language, because it explains the instructors, who are often hired in Brazil. Such a lively interest in capoeira in Russia opens new opportunities for Brazilian artists, each of which has its own style. But at the same time creates a gap between schools — which, it seems, can be found on any station — and the Federation of capoeira in Russia, founded in 1998 and recognized by the Russian Ministry of sport.
On the logo of the Federation emblazoned Brazilian flag. There is also a group name Só Força-based Vice-President of the organization Roman Belov. He is also holds a black belt in karate and purple in JIU-jitsu. Belov became famous in Russia after the battle with master Barrow (Barrão) from Brazil. After this fight he even published a book.
In April of this year, the Federation and Só Força organized the championship which was attended by more than 350 capoeiristas. The ceremony of initiation in each group gather hundreds of people — men, women and children. In Moscow there are more than 30 halls Só Força, which employ 23 of the instructor.
One of the special guests of the Grand four-day festival Tudo Pela Capoeira IV, which was held in Moscow in may, the Brazilian Tony explains the rise Belova: "I have little to say about the Federation. The only thing I know: the guy who created it, already long time is engaged in capoeira, conducts various tournaments. Once famous master taught them a seminar, and this Russian, the head of the Federation, joined with him in the dispute and was called to fight. The moral of the story: they wrestled, and then Russian released the book "My victory over the master Barrow". They have their own work, and I have mine. His students always come to me for… Him, I never have not seen and do not support any connection with him".
For those who practice capoeira in Moscow, there is a distinct boundary between beauty and competition. Instructors Ginge imported from Brazil. For the week, the Brazilian wizard is able to earn up to two thousand euros with regard to tickets, food and lodging. They usually make a European tour. A month of group lessons will cost the student to four thousand rubles (222 real).
Recognized worldwide as a master Bamba (Bamba) prefers to exercise tact and respect for the opponents of capoeira. He recently returned from a trip to Russia.
"The most important thing that Brazilian capoeira was brought to Russia all the necessary to ensure that people could get an idea of our culture," says Bamba.
Alexander Moeller was held back. For a long time he taught in Moscow, and then finally decided to go to Brazil and learn from local artists.
"To better know the culture of Brazil, I traveled the country from Salvador to Florianopolis. Gingi execution depends on the particular cities and groups. I prefer the style of Cordão de Ouro, more plastic, more graceful. Here in Russia, capoeira was very hard, broken teeth, noses," — laughing, says he is in good Portuguese, and then closes a hand over her face, lamenting the disunity which marked the relations between capoeiristas in the country.
"Today there are many large groups that can afford to hire a handyman, but even in this case the situation is not the most pleasant. Masters treat each other with disdain," he says.
Moeller was a disciple of Bamba, and last week gave advice to the master with his students in one of the halls of the school, which is located near the metro station "Pure ponds". He lives in Nizhny Novgorod, 400 km from Moscow, but came especially to be with students and friends and to celebrate the birthday of Marina Kolesnikova Marina Pomba Branca.
By the way, at the dedication of Brazilian capoeira choose their names. Alexander — Masoquista. There are, among others, were present Sapa, Careca, Valente, Pallas and Repai. To the accompaniment of berimbau and pandeiro five times they sang Happy Birthday and demonstrated knowledge of the vast repertoire of songs popular at the games in Brazil. All — in Portuguese.
"I easily learned Portuguese," admits Alexander Masoquista.
"I started to learn Portuguese to better understand the instructor," says Marina, who for seven years practicing this sport.
Russian student gives lessons to beginners and hopes to save money for a trip to Brazil: "Capoeira is an important part of my life. I teach every day, and it helps me relieve stress. It also piqued my interest in African and Brazilian rhythms".
Comments
comments