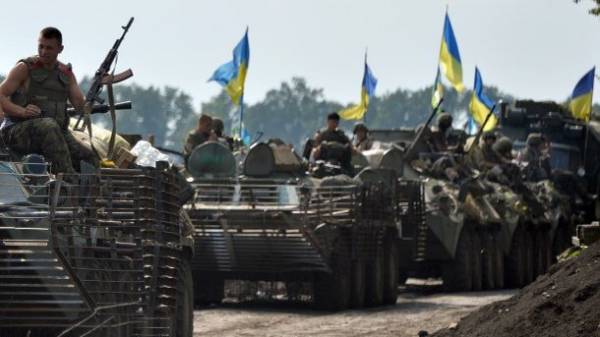 The Ukrainian army enough to break into three places of the front to a depth of 50 kilometers and the resistance of the occupiers will come to an end. This opinion was expressed in an interview with "Apostrophe" military expert Alexey arestovich.
According to him, the military operation to liberate the Donbas could be done within three days.
"First comes the riot and begins to cut the connection, then destroy the control centers, and undermine warehouses with ammunition and fuel. Then comes a massive blow to proven targets, 80% of which we know. Then come the infantry and tanks, using the results of fire strikes. On the third day, when we will chase them and wedges will break the line of defense, and the situation will change every hour and will lose control with their hand, then start to work our aircraft. Everything will be decided in three days. It's very simple. It is enough for us to break into three places at a depth of 50 kilometers, to make three debaltseve corridor – an end to them. Then our artillery would reach the border with Russia, all roads will be cut, and they will not be able to maneuver," – said arestovich.
He noted that for the APU, it is important to take control of Gorlovka, which will allow to divide the forces of the so-called "DNR" and "LNR".
"What is the history of the plant? We got the fire control over the road from Donetsk to Gorlovka, and Gorlovka – the key to the front. If we take Gorlovka or she gets into the environment, what can be done now, the front is falling apart – the "LNR" and "DNR" can't work together. We're starting to dissect, to cover fire, and that all of their defensive ends," – said the military expert.
Earlier people's Deputy, the coordinator of group "Information resistance" Dmitry Tymchuk told that today the Ukrainian Armed forces are superior fighters, who do not have enough forces to carry out a major offensive in the Donbass. According to him, the invaders are afraid of retaliation of the Ukrainian army after repelling the offensive.
Comments
comments