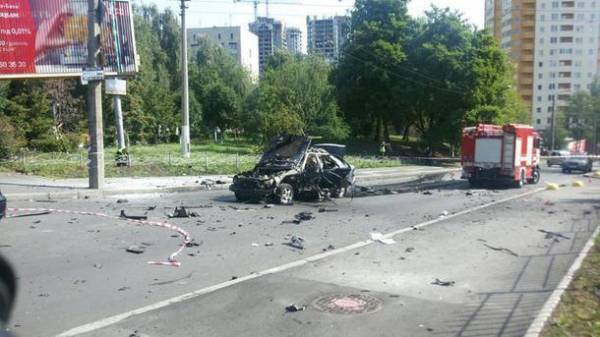 The murder of the head of the special forces of the Main intelligence Directorate of the defense Ministry of Ukraine Maksym Shapoval – the handiwork of the Kremlin, other versions may not exist. This was stated by the speaker of the Ministry of internal Affairs Artem Shevchenko in an exclusive interview to NewsOne.
"What else can be version? Killed the unit commander of the Main intelligence Directorate of the Ministry of defense of Ukraine. The person whose unit was flooded to the enemy is not enough fat in the skin at the front, starting with the first day of the war. So what other versions may be involved, when the killing of such terrorist and a professional way of this Colonel. As you can see here something other than the hand of Moscow?", – angry Shevchenko.
According to him, the attack against Colonel Shapoval, who killed a huge number of enemies of Ukraine and other States is the answer of the Russian Federation for the fact that this man served his country.
"This is the answer for what Shapoval served his state, because he went to sacrifice his country, for he was a powerful and effective unit, because the Main intelligence unit of the Ministry of defence got a lot of important information and provides it to our international partners to bring international level of bloody aggression of Russia in Ukraine – that's what the Russian Federation", – concluded Shevchenko and added that Russia destroys all leaders who had displeased the Kremlin regime.
Recall, June 27 at 8:16 law enforcement officers received a report that at the intersection of streets Solomenskaya and Alekseevskaya exploded the car "Mercedes". The fragments in the explosion scattered in a radius of about 100 meters and damaged other cars.
Later in mass media there was information that the deceased employee Gur was involved in the protection of informed of the killed in Kiev, Russian politician Denis Boronenkov.
Comments
comments