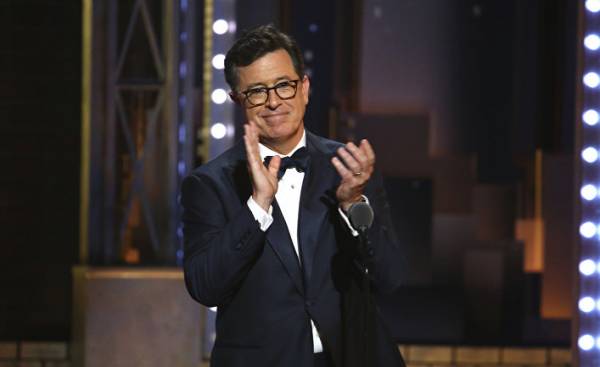 "I could give state secrets to Russian — joked on Monday in the program "late show with Stephen Colbert" famous satirist. — Oh, wait, someone already covered".
Host of the popular CBS program was glad to return home.
After returning from a trip to Russia, where he went on an assignment to remove the fragments for future transfers, Colbert said that abroad, he was clearly not alone. "You know, who knew that I am in Russia? Russian counterintelligence. Apparently, it is my passionate fans because they followed me everywhere."
He continued: "I also paid attention to American intelligence. A couple of guys appeared everywhere, wherever we go."
Colbert joked how important it is to follow comedians abroad. "I could give state secrets to a Russian, — he said. — Oh, wait, someone already covered".
Presenter evening show, added that he still lives on Moscow time. "This means that my body is behind the hour, which I now quite like James Corden (British actor, broadcaster, comedian — approx. lane)", — he said.
"This is so great, go places, sing songs, that would be great," joked Colbert, hinting at the fragments of the "Karaoke machine" from the program "late show with James Korden".
The presenter visited Russia last week, and returned Monday evening, from-for what it broadcast was repeated. While abroad, Colbert appeared in Russian TV show "Evening Urgant" and jokingly announced that in 2020 will run for President. "I think it is better not to turn to intermediaries, and to tell the Russians," said Colbert during transmission.
Comments
comments