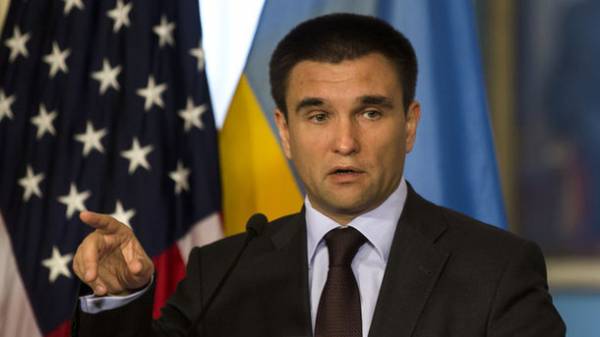 Before traveling to Russia, U.S. Secretary of state Rex Tillerson consulted with the Ministry of foreign Affairs of Ukraine and reaffirmed that to cooperate with Russia on the basis of trust is impossible. The journalists said the Minister of foreign Affairs of Ukraine Pavlo Klimkin.
"I talked to the US Secretary of State. He consulted with us when they built their position … I think his visit (in Russia – Ed.) very clearly demonstrated, not only in terms of statements, but in the sense of the logic that he laid out during a press conference … Our thesis with all of our friends and partners that with Russia we cannot, in principle, neither to operate, nor even to speak on the basis of no confidence, during a visit by far was confirmed," – said Klimkin.
According to him, Tillerson during a meeting of foreign Ministers of the group of seven said that the United States will support Ukraine.
"He said, "We are ready to do more for Ukraine. We are always with Ukraine. Everyone who sits around this table, everyone must do more," – said Klimkin.
As reported, on April 12 took place the meeting of Russian President Vladimir Putin and U.S. Secretary Rex Tillerson and Russian foreign Minister Sergei Lavrov.
We will remind, on 11 April, the President of Ukraine Petro Poroshenko has held telephone consultations with U.S. Secretary of Rex Tillerson before his visit to Russia.
We will remind, the Kremlin said, what is the place of Ukraine took in the negotiations Putin and Tillerson.
Comments
comments