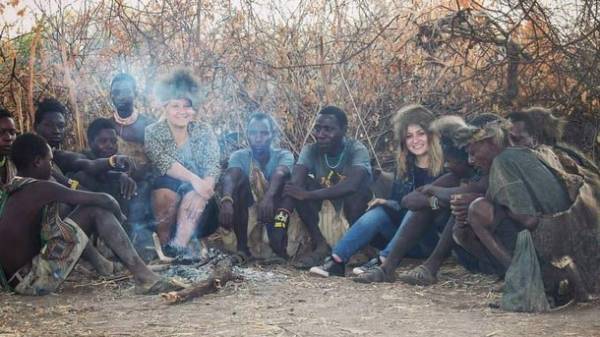 Two Ukrainian women working in travel Agency in Abu Dhabi, decided to flee from the Emirates together. We only had the plane to Africa, but Julia Yevtushenko and Lesya Karpenko — even those adventurer. It all started like this…
FROM SCHOOL
From Kiev Julia and Leo were friends from school. Sitting at a Desk, trust each other girly secrets, laughed and ate ice cream in the Park. Then Julia went to study in America, and Les went to work for TV was writing scripts and implement their creative ideas. From America Julia returned full of healthy ambition and good English, and soon joined the ranks of flight attendants of international airlines. What girl does not dream to become a flight attendant? Who would not want to fly in a shaped suit around the world and elegantly gesturing, to show the passengers the direction of emergency exits? Dream, not a job!
"Alas, it is only an appearance, — confessed Julia. — Work flight attendants heavy, both mentally and physically. No romance, believe me! Oblatas many countries, often on the airport never have time to visit. I quit my job. And almost immediately as if by lightning struck: I want to the Emirates! I was interviewed at the Agency in Kiev and a week later flew to work in a five star hotel in Abu Dhabi. At 21, I had a salary of $1000". But soon Julia realized that service is not it. It is very difficult to smile when you do not want to work at night, about to settle fights with quarrelsome tourists… "And I left again! This time in a travel Agency. I was interested in travels and everything connected with them," says the restless adventurer.
SALVATION FROM THE DARKNESS
On Les at the same time, stone became depressed related to personal life. After a long exhausting relationship, the girl decided to radically change life: find a job yoga instructor and straching in Egyptian hotels. "Six months in Sharm El-Sheikh became an Epiphany, says Les. — Animators in hotels work 18 hours a day, discipline and rules are very strict. It was definitely not about me! I'm a journalist, a creative person, any system for me was a prison. But it was a busy schedule in the end, "cured" my depression. In the head there is no room for bad thoughts! This work taught me not to dig into their problems and letting people go. Working in a hotel, getting used to the team and to the tourists, but they after some time leaving. It gives an important understanding: all people sooner or later out of your life. I returned to Kiev a healthy girl who could smile again. And soon Julia called me to work in the Emirates."
ARTIFICIAL WORLD
According to our heroines, in the UAE they felt safe. In this country, even at night you can safely walk the streets — the law protects you, and any bullies evaporate at the mere word "police". "Yes, it is somewhat artificial world. But there is in this a certain charm and gloss — continues to Julia. — It is very difficult to find friends in the country — 80% of expats for which you absolutely others. Emirates became for us a very tough survival school. The owner of the travel Agency cut wages in order to control every step. All ideas rejected and then blamed us that income is not enough".
At some point, a glimmer of opportunity to go to work in the Maldives. However a girl friend of tourism warned: after living in Abu Dhabi in two weeks for you howl of anguish! It's an island! But as they say, "Annushka has already spilt oil"… the universe heard the desire of the heroines at any cost to leave from your employer.
SAFARI
"One day the chief offered to launch customers for a new tourism product: an African Safari — says Julia. We sent out invitations to several companies, but said only Natasha, who ran the office in Tanzania. We became friends online, even family to each other "in absentia" know, happy holidays. And once we Lesia decided to leave to Tanzania. Bought the tickets to Nairobi, to from there by bus to Arusha (Tanzania). Was not afraid of tropical diseases, nor the climate, nor other horror stories. A General mistrust in the journey, just stop!".
SAVANNAH
At first everything was like a fairy tale. Natasha placed the girls in a luxury house, and after a few days the whole team went on a Safari (African hunting). Julia and Leo immediately realized that this is their place of power, the comfort zone, about which they dreamed.
Tanzania is famous for its national parks. This place was filmed the first series of "Tarzan", I remember the landscapes? However, come here not so much for exotic landscapes, but for the opportunity to observe wild animals in nature. An African Safari is expensive — a tour for 3-4 days costs $1000-1500 no of flights: only accommodation (intermediate level) and power. Most fans to dissect on a jeep through the savanna. There are many Europeans, especially Germans. Tourists from the CIS is about 30%.
DRONES ON THE HEADS OF THE LIONS
The girls had to re-learn a lot: to understand the logistics, calculations and pricing. Safari-goers "walk the rich": there are hotels located right in the national Park, their pool area overlook the Savannah. This Suite costs $2,000 a day. "And a family from Brussels filmed in a Park Villa for $8000 a day, and enjoyed the African exotic in quite a long time, says Les. Among the customers are very capricious. For example, one lady complained after the Safari, on the way saw the "not enough lions." That is, the lions were, "but could be a little more".
"State of emergency are rare, and caused by the tourists themselves, — says Julia. They do not understand that we are, in fact, enjoy the on-site animals. They all want photos and videos, forgetting that the car is strictly forbidden to enter. There were cases when tourists from the CIS hired a jeep for a self-driving, ignored the rules and went to the Park in the evening — although at this time to appear in the savanna is not allowed. The company even managed to use drones for shooting, which fell directly on the heads of the lions!".
HUNTING FOR $250,000
Few tourists realize that their passion for the "check-ins" with rare animals in social networks can cost animals life. "In the Ngorongoro crater, for example, home to a unique rhinos, says Julia. — For the prevention of poaching tourists are asked not to post photos from there: poachers instantly determine the geolocation and penetrate into the territory of the Park, to kill an animal for the sake of the precious horns. Not afraid of thieves even severe criminal liability. Alas, are still dealers that are bypassing the laws for the fabulous $250 thousand organizing a hunt for the lion. It looks terribly: jeep "hunter" is brought close to these large cats, and he actually in an emphasis kills the animal. In Tanzania such savagery anymore, but in neighboring Namibia in some places such "hunting" is allowed. Unfortunately, due to decades of extermination for fun and profit a species on the brink of extinction. In particular, white lions and rhinos remains today only in South Africa".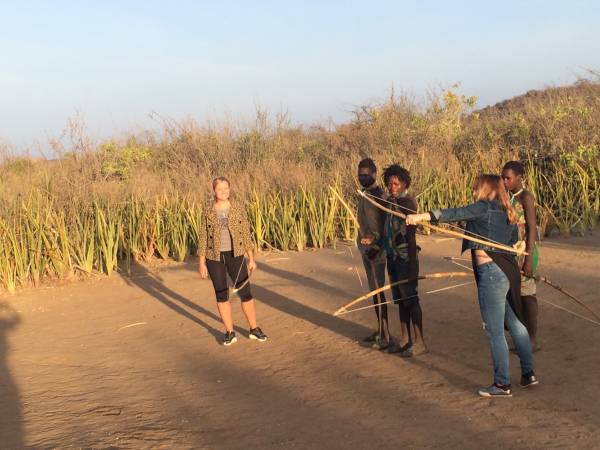 Master class. The Maasai tribe teaches the Ukrainian archery
TRIBES: SLEEPING ON THE GROUND AND PAY COWS
Most popular tribe of Kenya and Tanzania — Maasai. Yes, the ones in fancy red tunics. "This tribe can be called more or less advanced and cultivated — say our heroine Yulia and Lesya. Most speak English, many mobile phones. However, some Maasai have remained wild — live in Savannah, are pastoralists. Their currency cow. Money turnover in such tribes there." Some Maasai move to the city. To wear for the first time in my life pants and fly the aircraft for them — a great event!
The wife also paid with cows. How to determine the price? The girl is younger, the more expensive. Married girls are sometimes in 9-10 years, and the decision of parents is not discussed. Savagery? For the Maasai is: here girls Mature earlier and mentally prepared for his fate since birth. Masaya the more cows, the more wives he can afford. Sometimes a grown man to be 4-5 such juvenile saprogenic.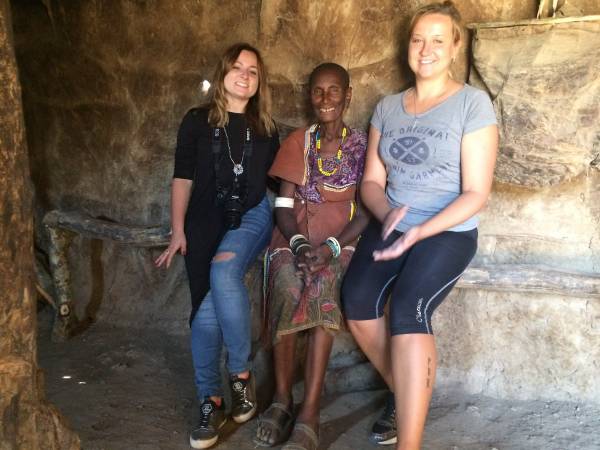 . Met together
COMMUNICATION WHISTLE. In Tanzania, dwells a tribe of hadzabe — there are only about two thousand. Hadzabe, so to speak, ideological savages, fundamentally do not wish to accept the benefits of civilization. Live by hunting and gathering, like the meat of baboons, and wear hats from their fur. "Hadzabe even the huts are not built, — says Julia. — Living simply on the earth as a dwelling use unless a huge hollow in the baobab. The polls are Smoking some heady local weed. In General, happy people. They are out of money, technical progress and the usual hustle and bustle. Speak their language, which snap a lot of sounds and whistles. With them, we communicated through an interpreter. Like all men, love the woman something to teach us with Lesia taught to shoot a hunting bow. Actually, the best gift for hadzabe — knives and arrowheads. Money and they do not need delicacies. The best way to become a welcome guest — smile, be friendly and learn a greeting in their language to the ticking. However, like everywhere."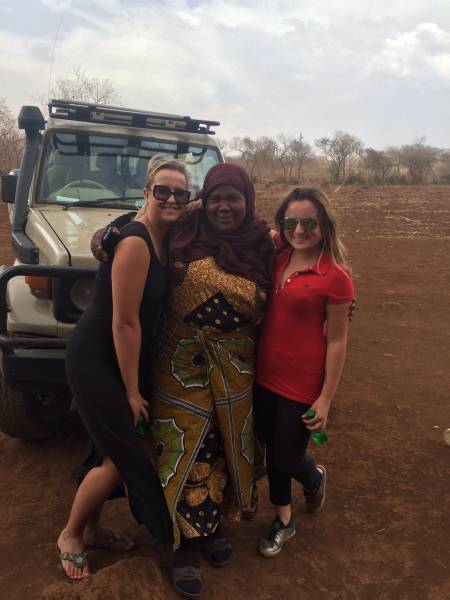 Acquaintance. Conquer smile
THE HOTEL MAASAI. Not long ago, two women from Austria, mother and daughter, opened a luxury Masai hotel, all proceeds of which go to the maintenance of the school, hospital and orphanage for 38 children. Moreover, these women are principally recruited staff in the only hotel of the Maasai to give them the opportunity to obtain professional skills. "The Masai wonderful tour guides on the Savannah — says Julia. They are very diligent and kind, well trained service and delicious cooking. Special devices, but there are wonderful spices, sauces, flower jam, honey of wild bees — simple, but amazing taste!"
JOY OF LIFE: THE BRIDE OF MASAYA AND THE "MOTHER" ELEPHANT
Simple Maasai guy Boniface, which the girls immediately called Boniface, and Bonnie, fell in love with Julia at first sight. "One evening we Lesia sat around the campfire with the Maasai, told their stories. And suddenly Bonnie and said, "marry me!". I told him — well what does that mean? I love to travel. Bonnie said: "Yes to health! You have won many cows in the Savannah! I already have a wife, you'll be the second, but favorite".
Of course, I laughed it off. And this year arrived, and Bonnie had already five wives! From 11 to 13 years. He was glad of my arrival and called again to get married. Say, you of the sixth, but favorite. Was very disappointed when I again refused. But do not lose hope — took my mobile number is (Bonnie's lovely smartphone), friended on FB and now I regularly receive heartfelt messages like: "Hello, my love! Beloved wife! The light of my eyes".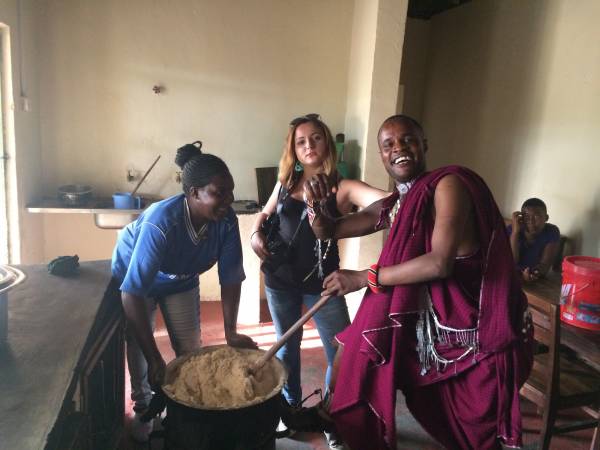 Boniface. Several times he confessed his love to Julia and ask me to marry him
AN ORPHANAGE FOR ANIMALS. Lesya and Julia actively support local charitable projects. For many years, an American veterinarian working for the good of the Kenyan national Park, which he founded. When this man died, his wife in memory of her husband opened an orphanage for orphaned animals. There is a real "Zootopia", as in the cartoon!
"It's funny to see how the little Hippo is friends with the girl antelope — smiles Les. — Little elephants in three years released into the wild. Very touching to see when they then come back after going great distances to show people their young. Caring for wild animals is a difficult and costly job. To the coordinates specified by the Rangers, helicopters transported the animals from the jungle. And when they grow up, the trucks are taken to Savannah. A lot of money spent on food: three liters of milk a day have only one elephant! So any tourist can "adopt" an animal is worth at least $50 per year. The "parents" elephants are, in particular, the privilege to come at 17:00, when it is forbidden to visit, to feed from a nipple "their" child, and put him to bed. Many tourists respond, donate money and "adopt" even a few animals. I also have a baby elephant! Send me a photo of him when I'm gone, and I can see how it grows".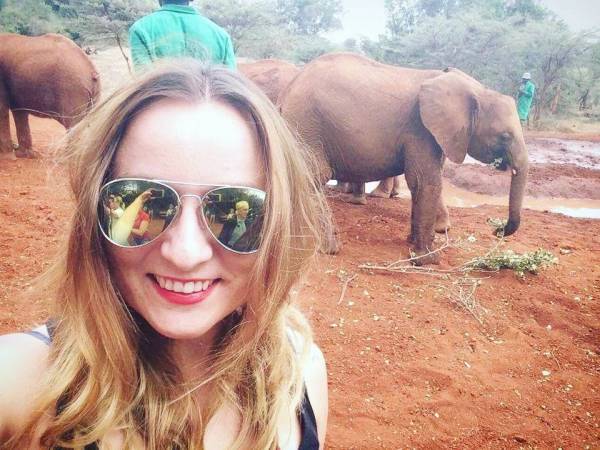 Lesya and her elephant Giotto. The orphanage for elephants in Nairobi
POSTSCRIPT
Journey of our heroines once again that we — the inhabitants of the Earth, in which there is so much interesting! People often travel into the unknown distance in pursuit of a dream. Paul Gauguin quit the post of clerk successful and pulled in Polynesia. Van Gogh left a grim North Brabant and lived under the cheerful sun of Arles. The widow of engineer Darrell moved with the children from the British rainy Bournemouth on the Greek island of Corfu so were born the novels of Gerald and Lawrence Garalov about the fabulous Mediterranean. And no one knows where and when we find something that will bring in our life harmony and meaning.
Comments
comments