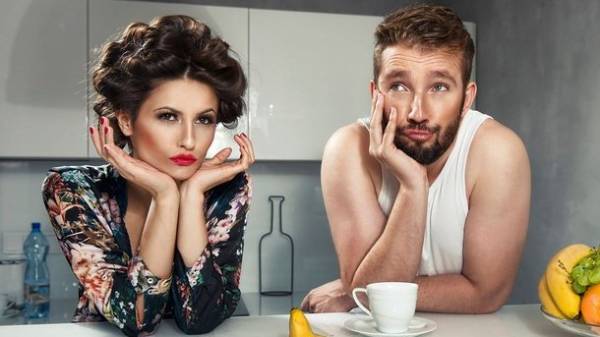 OUR EXPERT: Ludmila Denisenko, nutritionist, member of the European Association for the study of obesity
IMPROVE CONCENTRATION AND MEMORY
To overestimate the role of omega-3 fatty acids for our health it is difficult embedding in the structure of cell membranes, they activate their functions, improve nutrition and metabolic processes in the cells. Of course, this acid is important for cells of any organ and system, but the most — the brain, which consumes 20% of nutrients and energy of the body. If the brain to provide life support to the full, you will automatically improve memory, learning and concentration.
FORESTALL THE LOSS OF MALE POWER
Omega-3 fatty acids prevent inflammation of the blood vessels, improve their elasticity. And since more than 85% of cases of erectile dysfunction caused by vascular problems, the regular use of acids prevents impotence.
REDUCE THE RISK OF HEART ATTACK AND STROKE
Coupled with the improvement of blood vessels fatty acids normalize cholesterol levels in the blood. This happens prevention of atherosclerosis — the main culprit for acute failure of blood circulation in the brain and heart. Please note that death from heart attack and stroke, according to the who, accounts for over 30% of the total number of deaths (by all causes).
GIVE HAPPINESS OF PARENTHOOD
Acids provide hormonal balance for both women and men. Thus, they anticipate infertility.
SLOW DOWN AGING AND PROLONG LIFE
No wonder the average life expectancy of inhabitants of the Mediterranean is higher than in any other country in the world. But in comparison with Ukraine this figure varies dramatically. So, Mediterranean women live on average 85 years, while Ukrainian — 75,5, men 83 years, a Ukrainian is 65 years. One of the reasons for longevity who called the diet of Mediterraneans — it is rich in omega-3 fatty acids, as it consists mainly of seafood and vegetables, seasoned with olive oil. This menu also extends the life of skin cells, delaying the appearance of wrinkles.
THE MAKE UP RATE ACID PER DAY
Salmon — 70 g (lightly steamed)
Herring three piece
Walnut oil — 1 tbsp
Flax seeds — 3 tbsp. of women 2 tbsp — men
Nuts — 6-8 pieces (raw)
SALT HERRING THEMSELVES
Champion on the content of omega-3 fatty acids — marine fish. But since the heat treatment of the acid is oxidized, losing useful properties, the ideal — salt fish, and the best — the herring: its in the nurseries do not grow, unlike, say, salmon, and then herring is a completely natural product. The fish salting better than most — so you can adjust the amount of salt.
So, 3-4 herring of medium size, clean, gut, remove head. Thoroughly dry it with a napkin. RUB with mixture of 2 tbsp iodized salt, 1 tbsp sugar (no slides), 1 tsp red and black pepper. Wrap in a cloth napkin on top of the cling film. Keep in the refrigerator for three days.
If herring still have to buy, pay attention to it and had dark spots on the abdomen is a sign that omega-3s due to improper storage it has long been oxidized. An additional feature — a fish stinks of rancidity.
THREE RECIPES FROM THE HERRING
MINCEMEAT
Ingredients: bread "Borodino" — 60 g, red onion — 30 g, cranberry — 5 grams, herring — 450 g butter — 100 g egg — 1 PC., green onion — 10 g.
Preparation: herring have fillet mix together with boiled egg. Add the oil and sliced green onions. Arrange on a plate with rye croutons. Garnish with rings of red onion and cranberries.
TARTLETS WITH AVOCADO
Ingredients: rye Bread — 200 g butter — 60 g hazelnuts — 70 g 1 PCs egg (boiled) and avocado, cream cheese — 80 g, herring — 5 pieces red caviar — 4 tsp, fresh herbs and cucumber for processing.
Preparation: bread and nuts grind in a blender. Add the oil and egg. Lay the forms in the form of baskets, bake at 190 °C for 15 min. Grind in a blender with avocado and herring, add cheese. Fill with mix and caviar ready baskets. Adorn.
THE BAGUETTE UNDER MY COAT
Ingredients: 1 baguette, 1 herring (fillet), 2 processed cheese, 2 boiled eggs, 50 g butter, 1 large beet, 10 gherkins, dill, salt, pepper.
Preparation: grate cheese and eggs, add oil, spices. In a third of the toppings — dill. 2/3 grate cooked beets.
Baguette cut along not to the end, remove the pulp. Spread a layer of beetroot toppings and layer with greens. With the uncut side lay the gherkins, herring. Line cut of a baguette spread with butter, combine the edges, wrap in cling film and 3 hours put it in the fridge. Slice the prepared baguette slices.
Comments
comments