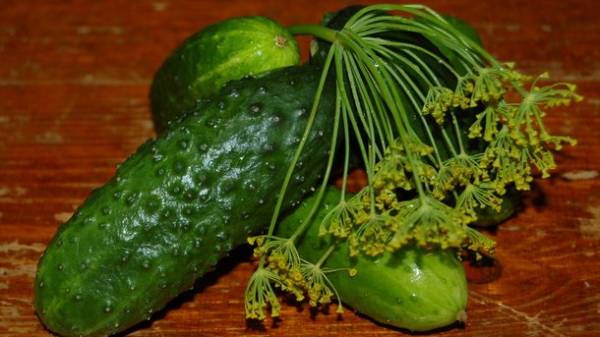 Homeland cucumbers — India: there is this vegetable grows in the wild. But to grow it and cultivate the Greeks began, and they gave the cucumber name that means "immature", "unfinished". And all because the cucumber is the only vegetable that deliberately use unripe, not waiting when he will turn yellow (ripe), and its seeds will become hard. After all, if the minerals in cucumber when ripening is not going away, then here are the vitamins, phytonutrients and juiciness are reduced significantly. But this watery vegetable (cucumber consists of water by as much as 95%) also makes it useful.
On the eve of the season of field cucumber will look in more detail at its therapeutic properties.
OUR EXPERTS:
Elena Svitko, doctor-naturopath
Boris Skachko, doctor-nutritionist, phytotherapist
FIVE MAIN PROPERTIES OF CUCUMBER
QUENCHES THIRST AND FIGHTS WRINKLES
Cucumber thirst quencher due to two factors. The first is that it increasingly consists of water, the other that contains potassium is 74 times more than sodium.
Again: what a cucumber is, in fact, is the liquid — makes it a great remedy against wrinkles. In fact, besides the lack of certain substances that cause premature aging of the skin becomes dehydrated. For this purpose, the cucumbers can be eaten, and can be applied to the skin mush or mugs of vegetable.
INVIGORATES NO WORSE THAN COFFEE AND PREVENTS HEADACHE
Cucumbers stimulate through carbs and b vitamins in its composition. After all, carbohydrates are energy source and the substance regulating the level of glucose in the blood, and vitamins To ensure the normal functioning of nerve cells. These substances cucumbers prevent and reduce headache — even if, for example, a person had too much alcohol.
EFFECTIVE TOOL FOR WEIGHT LOSS
100 grams of cucumber contain only 15 kcal. For comparison, the same amount of chocolate is 550 calories. Thus, the power only cucumbers will force the body to produce energy from fat stores. Plus, cucumber has diuretic, choleretic and laxative effects that helps to eliminate excess fluid from the body and cleanse the digestive tract from the remnants of undigested food. These three factors will allow for 5-7 days cucumber diet to lose 2-5 kg depending on the initial weight.
Cucumber, as the product is alkaline, levels acid-alkaline balance and reduces the acidity of the cells that arise mainly due to improper diet and inactivity, and is one of the causes of fatigue. To assist the work of one of the major body systems — cardiovascular. Potassium and magnesium enhance the beneficial effect, including optimizing blood pressure.
HELPS WITH BURNS AND UNHEALTHY BREATH
Cucumber contains chlorophyll, a substance that has antibacterial and wound healing properties. Therefore, cucumber can improve the condition of skin, if the person is sunburned (it is necessary to impose a mask of this vegetable) and also to reduce bad breath (cucumber should carefully and for a long time to chew).
UNUSUAL DISHES OF CUCUMBER
These recipes will appeal to those who are tired of traditional salad of cucumber or hash.
CUCUMBER PANCAKES
INGREDIENTS: 2-3 pieces of cucumber, 1 egg, 3 tbsp flour, 50ml vegetable oil, salt to taste.
PREPARATION: grate the Cucumbers on a coarse grater, add salt. When the cucumbers start to let the juice drain, add egg, flour and bake pancakes until Golden brown. Put on a napkin to stack the excess fat. Serve warm with sour cream, yogurt or mayonnaise.
SNACK "NUT"
INGREDIENTS: 3 cucumber, 1 Cup cashews, soaked 2 hours, 0.25 Cup Basil, 5-7 sun-dried tomatoes, 2 tbsp olive oil, 2 tbsp sauce Sriracha (or other very hot sauce).
PREPARATION: Cashew nuts, sauce, olive oil shake in a blender. Tomatoes and Basil finely chop and mix with nuts, mix again. Slice the cucumber rings, making each notch. Put 1-2 tsp of the stuffing in each hollow.
ROLLS WITH COTTAGE CHEESE
INGREDIENTS: 100 g butter/cheese/processed cheese, soft cheese such as "Gouda", crab sticks, 1 large cucumber, greens.
PREPARATION: cheese RUB on a small grater, chop the herbs, add the cream cheese and mix. Cut into small cubes crab sticks, and cucumber, cutting the tails, cut lengthwise into thin translucent slices. With wet hands roll into a log, the curd balls the size of a cherry, put each bead on one edge of the cucumber strips and turn her. For strength rolls kill it with a skewer, but that may not be necessary. On top of the rolls sprinkle with crab sticks, decorate with greens and refrigerate.
Comments
comments