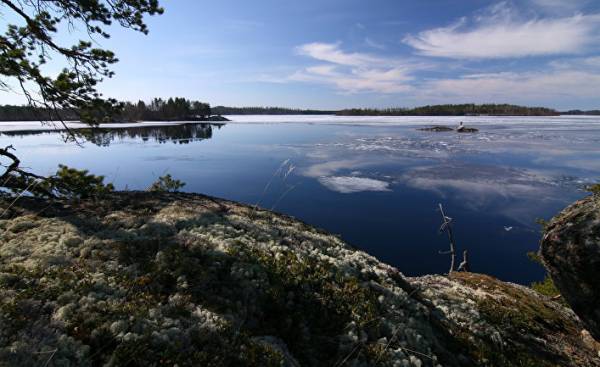 Dmitry Puchkov, a native of Vladivostok, doing the hike alone from Lapland Rovaniemi to Helsinki to celebrate the centenary of Finland.
He has only the most necessary. This time it's an accordion and a sleeping bag.
Garmon will help to entertain themselves and others, and in the bag you can sleep anywhere, even in the woods.
"I already went this route 15 years ago, albeit in the opposite direction, from Helsinki to Rovaniemi. Then I missed a set period of time, but now not so sure," he says.

In the name of friendship
The journey from Rovaniemi to Helsinki via Pori and Vaasa is about 950 kilometers. But for an experienced person this is not a problem. Two years ago, the Beams passed 1400 km in China.
He returned on foot to wander through Finland to congratulate thus the country with the centenary.
"So I want to contribute to our friendly relations and demonstrate respect for cultures", — says Dmitry.
The importance of culture says that he is a fan of Vysotsky. Next year he would have turned 80 years old.
"You know, "a Song about a friend"? If the friend has appeared suddenly…" — said the traveler.
Of course, this song is known also in Finland. We have the most famous of its performers are Arya, Saijonmaa and VESA-Matti Loiri
Finland's best — nature
What Finland think Dmitry is now, 15 years after the previous hike?
According to Puchkov, little has changed. The last time the road passed through the town of jyväskylä, and now the landscapes are slightly different.
"But the nature of Finland as beautiful as before. On my way — 30-40 kilometres of forest and is very beautiful."
Dima believes that the best in Finland is nature and people. He received help when he needed it. He especially thanked the people he met in the town of Raahe.
"I have a bad leg, and told me that I need to rest for some time. After a few days the pain stopped, the redness and swelling went down and I was able to continue on my way," he said.
In Raahe Dima was given a truck with which to carry things became much easier.
When he came to town Mustasaari, truck axle broke. Fortunately, he was there and helped.
"Thank you Emily and Lena Liten, which helped me to fix my truck," says Tufts.
The traveler here and made new friends. He had a long talk with my mom Liten and her daughter, although the common language of communication they had. He was helped by the translator Google.
Thanks to the police
Dima Beams wants to tell you about another wonderful event.
"I was picked up a motorcycle COP. He was very serious and calm, — the man told. When I explained what I was doing, he handed over the radio to others that a person who is in Finland".
The police really should be polite with Dima. Because he has powerful friends.
"15 years ago I met Joulupukki (the Finnish Santa Claus — approx.ed.) and this year, too. He remembered me, and now my phone have his number!" — said Puchkov.
Comments
comments