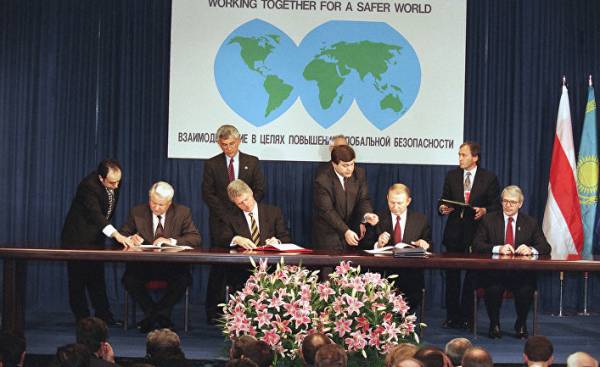 At least four, at least nine of the negotiators — the world is still there
You know, there's the Normandy format Minsk Protocol. In Minsk, met 4 members of the States Merkel, the man most character, which protects us, and we owe her our thanks and Germany for such a clear stance, Hollande, Putin and Poroshenko. I ask you a simple question: please tell me why they have not signed this paper, this Protocol? Why not come along to the press and not made joint statements? To percent to 51 was a common position. This was not the same. And who signed the Protocol? These people who did not participate in this discussion. Why are they not signed? Because they were not convinced that this can be done, or some party is not interested to do.
Let's look at all the post-Soviet conflicts. In 1992 in Minsk was established the contact group on Nagorno-Karabakh. There's 20% of territory of Azerbaijan and Armenia took. There is a formula 7 plus 2. And that's where we are? Something has shifted? There both Turkey and Sweden, and Germany. Let's look at the Caucasus, our colleagues from Moldova — and there and the United States (attended — approx. ed.). This is because today you hear a lot of exhortations: "let's change the format this, let someone else add". That? The number changes nothing. I again want to say here: it depends only on one person — Putin! And he wants to change something? We are today what we see? No. Are there mechanisms the Europeans have to get him to make some positive changes? Trade sanctions — Yes, some problems for Russia they create. But, on the other hand, they force Russia to do energonaladka technology. It is really so. If I can't buy somewhere in the world, in Europe, so I have something to think with their brains. And in Russia, the brain is, as we know…
…I will give an example with the Budapest Memorandum. The country's "nuclear club" signed a guarantee of the sovereignty and independence of Ukraine. Signed by the President of the United States, the UK Prime Minister, the President of Russia, President of France, President of China. What do we want? There in black and white all we need is that they promise before God to us all. I want to emphasize again that it is not from some participants of the contact group depends on the solution to the problem, just have the main who is responsible. Today I referred to the UN security Council. So what? All members of the security Council raised his hand for Ukraine, one raised against it. Today, the guarantee system does not work. That's what matters.
Why are we with Russia do not get together on the Donbass
You know what the most important contradictions between the us and Russia? We say: let's channel Protocol and the Minsk Protocol will perform the first points — declare the full "silent mode" and withdraw the Russian troops that are there, get all kinds of heavy weapons, exchange prisoners "all for all". And they say — no, it's all secondary, we should hold elections, choose power, and then we'll do the rest. Tell me, is practically in the occupied territories to hold elections when there is at least sorokiniana group of illegal formations, when there is such quantity of heavy weapons, more than in our army, when there are constant cars and "humanitarian groups" with Russian weapons, and those on the other side have no problems with this? So again I say, the world community has the opportunity, first and foremost the United States, to implement the Budapest Protocol and to really do that is necessary today for Ukraine to become a truly sovereign state. The mechanisms they have, but we still have the desire.
You know when Merkel is trying something radical to do there hand grab all of her, including Mr. Schroeder. And where he works and how much it receives from the largest German companies working on the Russian market? For them Ukraine? In Ukraine they are not. Neither Germany, nor France, nor the US, nobody we have almost one. Today conflicts everywhere, and everyone is looking at the problem from their point of view. Let's look at the same Syria. But can't do anything. So we have, pardon my frankness, a very long and difficult path to peace. Because I, for one, is convinced that Russia wants to have another frozen conflict in Ukraine. But it's worse than Transnistria, because in Russia there are no borders, and the border…
On the United States helps those who help themselves
…We now hope for the United States. In this situation, is really the United States can play a decisive role. Let's hope so. What are we, on God only? Before God far away, he somehow did not hear, unfortunately. And now I'm in addition, I will say why we've never been government? Today, many inside the country, we believe that we are the subject and object of international politics. Why the war in the country, and we have no unity, our political elite, which is not. But I say "political elite" to unite against this situation. Why? View on the Parliament, the politicians fighting for the fights, they only play dead people in the Donbas. Where is our unity? If it is not, nothing will happen. We are about the economy in General have forgotten, we fall apart at all! The high-tech industry we have. The space industry there, no air. Let's ask, as the Academy of Sciences is financed and what we take out.
We become a raw materials appendage. We stayed metallurgy, chemistry, agriculture. High technological industries are almost there. Where are we going?
And we're all about "great matters"…
We enjoy free trade with Europe. Than we trade with Europe? Look at the statistics. Wheat. In addition to agriculture almost nothing. Quoting is hard. During the first quarter we almost all quotas have selected. And now you see how the Europeans put us to our knees: "let's chop wood and bring to us." Where any particular assistance to Ukraine, we have to become on your feet?! If we are poor, we do not need!
Look at the European press — there is about the Ukraine mentions almost none. And we are talking about "great matters". 90% of everything depends on us. No need to go around the world with an outstretched hand. Today the budget of Ukraine for 70% borrowed.
If you do not start to deal with their own problems, which we have here how much, if people do not believe in our power, and together, won't the carts to pull in the same direction, not different, no forums will not help. For us our business nobody would do.
Comments
comments