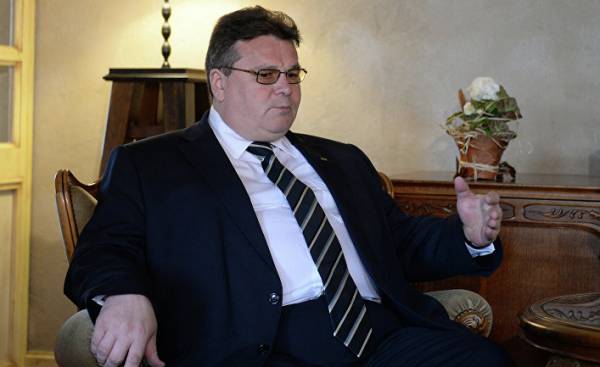 The steps of Russia, unfortunately, is not aimed at reducing tensions, and in a relationship with her you need to really look at things and call them by their names, claimed in an interview with DELFI Minister of foreign Affairs of Lithuania Linas Linkevičius.
He also spoke about the meeting with the NATO Secretary General, relations with Belarus and the Astravets NPP problem, and the details of their collaboration with their Swedish counterpart's visit to Ukraine.
NATO forces will be here as long as you need
During the meeting with NATO Secretary General Jens Stoltenberg, foreign Minister of Lithuania discussed, he said, a wide range of issues, the conversation "as has always been subject." NATO Secretary General before the meeting with Linkevičius said that the transfer of troops of the Alliance to the East was completed, the question "is it possible to sleep peacefully," he said, "you need to Sleep is always calm, and when awake — to work." Is the placement of NATO troops in Lithuania, or think about more air defense, the foreign Minister said that "it's still a lot we need to achieve". He also said that Lithuania needs defense and on an ongoing basis, and NATO troops will stay in Lithuania "as long as need be".
Steps Russia is not aimed at reducing tensions
"The steps taken by the Russian Federation, despite the propaganda, unfortunately, is not aimed at reducing tensions. They accuse NATO of some escalation, but the battalion is more than a thousand soldiers, a lot of noise around, but we forget to remind you that somewhere in the 300,000 additional units for the Western district of the Russian Federation, is re, including upgraded missiles "Iskander", etc. There's not much to compare," — said Linkevičius, speaking about diplomacy in a situation when, according to the moderator, during the exercise, talking guns, not diplomats. "And we need to keep in mind and that is to fight the propaganda in particular because it is also a war," he said. The reader's question, "when will the endless Russophobic hysteria and whipping up the situation," Linkevičius said that "it is just that hysteria was not." "We need to talk not about hysteria, but about the appropriate measures that could counter the actions, which take place near our borders. I already mentioned the figures, so where is the Russophobia, where is what?" asked Linkevičius.
"I never liked the term Russophobia, because it is wrong. I disagree with those who want to monopolize the Russian language, Russia, to speak on behalf of Russia. Russia is big, there are also a lot of friends. So let's not monopolize and call Russophobes those who speak Russian about Russia, our future together, as it was the last Russian forum in Lithuania. I am proud that we have held such events, which have nothing to do with Russophobia, aggravating the situation. Just the opposite," — said the Minister and admitted that she is surprised that sometimes sees on television, which sometimes looks.
At the same Linkevičius also noted that in meetings with his counterpart Sergei Lavrov speaks Russian. "When we speak, I always speak with him only in Russian," he said. Continuing the theme of relations with Russia, Linkevičius admitted that Lithuania is closely following the developments, and Lithuania maintained a dialogue with civil society Russia. Speaking about the mass arrests during the recent protests in Russian cities, he stressed that violations of human rights is not an internal affair of the state, since human rights is an international obligation. The Minister also said that "unfortunately, Russia today is no partner." "And pretend not worth it. We need to understand that the period of spiritual comfort ended. The other world is sometimes rather cynical, harsh and unfair. You need to call a spade a spade", — concluded the Minister.
On Russian Ambassador's statement
Commenting on statements by Russian Ambassador to Lithuania Alexander Udaltsov that Lithuania owes Russia for the Soviet period of 72 billion dollars (L. Linkevičius informed, said that such statements are absurd), foreign Minister in an interview stressed that this is "not very soft word in relation to the Ambassador from the mouth of the Minister". "I still can't understand how you can make such a statement on the eve of the Day of mourning and hope, the anniversary of the deportation. To talk about some numbers that we know, how many ruined lives, killed and deported to Siberia. So it is very inappropriate. And if you have the desire to improve mutual understanding, to establish some kind of constructive dialogue, such statements to make it very difficult," he said.
I don't even know how to talk to our neighbors
In talking about relations with the neighbouring Belarus, Linas Linkevičius "with great regret," said that "does not even know how to talk to our neighbours, for we ask the basic questions and not getting answers". According to him, during a recent Committee meeting, ESPOO Belarusian side failed to convince its members "the success of the project" NPP in Ostrovets, "and has not taken any decisions." "The next meeting will be next year, and we will consistently work to consolidate the position not only of the EU but also Evrokomissiya" he said, adding that in this matter we make no compromises because it is very sensitive.
"40 kilometers from where we sit, the building will be erected some dubious safety standards. And it's not just our headache, but the entire region, the EU, in the end. You can't do it, despite the fact that Belarus is not behind this. This is a Russian geopolitical project, not even economic. Russian technology, Russian financing. This we well understand. But still there is space for compromise there," — said the Minister and assured that Lithuania will do everything to ensure their safety. "While it is impossible to agree", — he concluded.
According to him, in most EU understands and shares the position of Lithuania, but not everyone is ready for the steps that did the Lithuanian Parliament in connection with the ban on the purchase of electricity from unsafe stations. "In this case we appreciate the position of Poland, whose government also stated that it will not buy electricity from this facility. Gradually position konsolidiruyutsya, and we will work", — he said and stressed that the need to constantly enforce the safety standards.
Improvements in Ukraine in terms of security, no
Speaking about his recent collaboration with Swedish counterpart's visit to Ukraine, Linkevičius said that colleagues had more discoveries than for him. "I am very grateful to her, we are not the first time we go to Ukraine, were Moldova, it is very important psychologically and politically, for our neighbors and colleagues to see that we are interested in how these countries going," admitted the Minister. Linkevičius said that together with a colleague, opened in Odessa Lithuanian fair, and the next day they discovered the Ukrainian-Swedish business forum. "It's positive moments, but in General, the situation in the sphere of security is not improving. No truce there, of course not. No signs of this, and when we talk about the implementation of the Minsk agreements, all the time remember that concessions will not be", — he outlined the situation in the East of Ukraine.
"Sad is about the fact that we can't do anything. So when we talk about sequence, it is only thus that the first — improving security, and then some decisions in political terms," stated the Minister. In General, when speaking about reforms in Ukraine, Linkevičius, despite the problems, summarized: "For three years they made more than 23". And added that "we need to keep in mind that after all there is a war". In addition, speaking about Ukraine, Linkevičius said that the younger generation of Ukrainians sees its future in Europe, and "sanctions — the only leverage we can use against Russia." "It can be whatever you like to call it — Russophobia, crematoria. We no longer use. I think talking about the EU that we behave inconsistently. Some countries do not adequately perceive those items that we have identified in dialogue with Russia", — assured the Minister.
Comments
comments