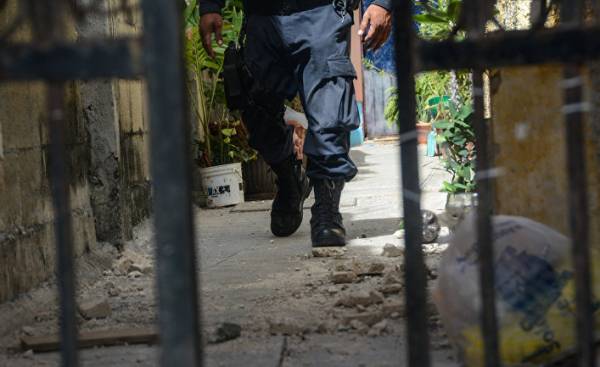 Mexico city. — "Kill him! Kill!" — shouted the crowd of hundreds of angry Mexicans in Cancun, which is located on the coast in Quintana-Roo and is a popular tourist destination. "I will cut your head!" — shouted one man bloody 42-year-old Russian Alexey V. Makeeva, who had fled from his apartment and sought refuge on the roof, where the crowd started throwing stones at him and to mock him. When Makeev finally lost consciousness and fell, bathed in his own blood and the blood of unarmed young men, whom he stabbed a few minutes before you try the last to enter his apartment, the Mexicans left it alone, and the reporters started to shoot the scene, claiming that Makeev died.
​
But in fact, beaten to death with sticks and stones half-naked Russian was alive, and he was taken to a local hospital where received medical treatment. Residents fractured his skull.
Makeev is now in stable condition, although it is in an artificial coma. He's paralyzed, and he may have brain injury, as stated by the Russian Consul in Mexico city Dmitry Bolbot. However, 19-year-old young man named "Lalo", whose name has not been disclosed, died from bleeding on the sidewalk, while the doctors tried to save his life. He died after Makeev several times, punched him in the stomach with a kitchen knife, running away from his apartment. This horrific scene was recorded on video.
"Russian just stabbed this man. He lost a lot of blood," said someone during the webcast that lasted several hours of clashes. Thousands of social media users watched those terrible scenes on their phones and computers, leaving comments like "Cut his head off!", "Throw him in the ditch!", "Finish him!"
The crowd came to the house Makeeva on Friday, when the local media began to report about the Russian, who for several months has posted on his own YouTube channel his video in which he posed surrounded by swastikas.
From the videos it becomes clear that he has a habit of insulting Mexicans, with a particular aversion to mention of indigenous women and children. In social networks he passed under the name #LordNaziRuso (Lord Russian Nazi), and indignation at his actions very quickly escalated.
Last Friday Makeev posted a Facebook entry that he "wants adventure," and that the terrorists are trying to kill him.
Several hours later, he posted there a rough figure with the inscription "Suck my dick, Mexican shit." And when angry people started to call him and post on his Facebook page, angry comments, he mocked them.
He often sent video of the tiny one-room apartment in Cancun, sitting at his untidy Desk by the window sill, where there were cans of green peas and other products. The evening near his house began to gather a crowd, and a local reporter with quadrocoper was to shoot the scene, which became a prelude to an attempt to Lynch Makeyev. He Makeev was sitting at the table and continued to mock people online.
Sitting next to a large bottle of ketchup and pictures of swastikas, Russian has repeatedly posted a video complaining about the Mexicans and their police in a mixture of Russian, English and Spanish languages, and flavoring his speech with offensive language.
In Mexico, a native of Elektrostal near Moscow Makeev became a totally undesirable person, while in Russia, he also became famous when in the Internet appeared the record on which he pushes an elderly woman and a child. In 2013, it has taken account of the Ministry of internal Affairs. According to press reports, Makeev was placed forcibly in a psychiatric hospital for such erratic behavior.
"If the authorities do not want to do anything, if our government can not do anything, then we get together and make what we need," — said on Friday in the Internet, one man straight before you try to Lynch Makeyev. He urged residents of Cancun to come to the house of this man and grab him. "We're not going to Lynch him, because it sounds bad, but we're going to teach".
"Cancun deserves respect,' said the man. — This is the most beautiful place you can imagine".
One of those weird video, thanks to which Makeev became known, it is possible to understand that he had a fanatical obsession with Madonna and knives, and that he often went to the local McDonald's in Cancun and blatantly filmed having lunch there humble Mexicans. Makeev close-up shot of the faces of the children, who were called "bastards," and contemptuously referred to visitors as "monkeys" and "shit".
In one video, made on the roof of the building he's standing shirtless next to a swastika, wearing a clown nose. The entry has the name: "MacDonald… trump." Many of his posts in Facebook tells the story of various disputes regarding the alleged links of the President with Russia.
It is quite long acted on the nerves of people, but in Mexico he had few friends. Two weeks ago Makeev has posted a video where he interviews the American who called himself Roy. He claims that he was beaten by local police after he withdrew the money in Western Union office. Roy said the cops took his $ 200 and he was stuck in Mexico without a passport.
"When I woke up, I was standing on all fours. When she rose, he saw their teeth, I took it and put it in his pocket. And grandmother — they were not. Sailed money. So I have nothing left, only this — toothless Roy says, pointing to the bruise under his eye. So I recommend to all who are coming: be careful. The police here are corrupt".
This topic is on video Makeev attended to constantly. When he complained about Mexicans, he complained to the police.
In December last year, its the month I've been trapped in an immigration center Quintana-Roo, and then declared persona non grata for the fact that Makeev was repeatedly threatened by the local Maya. Video Russian complained that in prison he was not given water and treated him badly. The national migration Institute, in his statement said that on 19 January it was decided on the "final expulsion Makeeva from the country."
However, this person, previously worked as a diving instructor in Cancun, still remained in Mexico. Company water sports where he worked on Saturday are unable to make any comments, but in a statement said that he had ceased to work in November 2015, when the firm's management began to notice his aggressive behavior.
Russian Embassy in your statement does not justify his actions, but pointed out that "strongly condemns that, as Mexican citizens, not trying to judge his actions, decided to take matters into their own hands." The Embassy has asked the Mexican authorities to deal with these "unfortunate events".
But the citizens and residents reported his behavior to the immigration authorities, even after his recent arrest. One local radio host, the 55-year-old Richie Fabricio (Fabricio Rechy), provided The Daily Beast recording of his conversation with the immigration authorities from the month of February. He sent them a disturbing video that came across on the Internet and asked the authorities to expel him from the country, as it poses a threat to the local population.
During this interview, the immigration officer first tried to say the video was shot in Russia, but Richie said that the shooting was done at a local McDonald's restaurant. He even made it easier for the authorities, providing them with images of immigration documents Makeyev.
"They thanked me for the information and said that it will investigate, said Richie on Saturday during a telephone interview. But I doubt that they attach some value".
"I came across these videos and realized that he threatens people, calls them shit, he says it will kill Mexicans, to cut off their heads. I thought he was a dangerous man, therefore, found it necessary to report it. It's my civic duty," said the radio host.
"There is a video in which he shows his middle finger to young children, throws coins to an elderly woman in the shop, gets another elderly woman in the Bank and comes on the food of the children playing on the beach."
Speaking about the incident with a fatal outcome, which occurred Friday night, Richie said, "This wasn't supposed to happen."
"The police arrived on the scene in the evening, but then left, saying that can not do anything, because this man locked himself at home," he said.
Later, after about half an hour after he began a cruel fight, a lynching, the police came back with reinforcements. But by that time the situation is already out of control.
When the ambulance late Friday night lucky unfeeling and blood-stained Makeev in hospital smiling at the Mexicans triumphed, and insulted him, and sometimes chanted "Mexico, Mexico!"
The national migration Institute, in his statement said that he would seek deportation to Russia Makeeva, as soon as we see its legal position.
However, Richie said: "All this would not have happened if they had taken note of my words, when I asked them. This guy today would still be alive, he said. — Unfortunately, this is a national problem in Mexico — the anarchy and the inaction of the authorities. I hate to say this, but we in Mexico have become accustomed to corruption."
"No trust left, added Ritchie. — People prefer to take justice into their own hands, so as not to contact the authorities. The way it happened."
Your story gave to the Moscow correspondent of The Daily Beast Anna Nemtsova.
Comments
comments