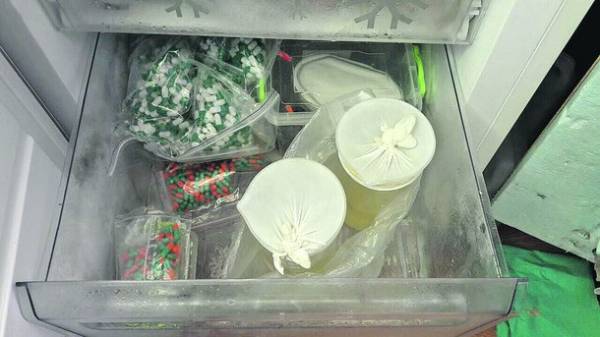 In Ukraine, the drug trade is almost completely gone in the Internet. Only in the last couple of years, according to the police, identified 80 species of new psychoactive substances, which are still not included in the prohibited list. This is mainly Smoking mixtures and analogues of amphetamine-type stimulants. The main reason — the Internet brings the risk of being caught to a minimum. Vendors have plenty of opportunities to somehow disguise his goods; and therefore to avoid liability even in the event the capture will be easier.
ADVERTISING IN VERSE. As we told the head of the Department for combating drug-related crime Andrew Kikhtenko, especially popular with the sellers of hazardous substances are various Internet chat rooms and instant messengers.
"' These chats are increasingly seen on fences, walls of houses even in crowded places, — said Kikhtenko. — Our staff is constantly monitoring new tendencies in the sphere of illegal drug trafficking. Including to maintain communication with the drug criminals have been on the network. I note that the ingenuity of the sellers not to take, some even advertise their wares in the verses using metaphors".
Kikhtenko said that such sales allow buyers and sellers to contact each other. "The client orders merchandise in chat, pays for it and takes in the place where the goods left zakladki". But the cops does not lower the arms. "For example, we have such practice: if anyone saw in the city the label is bookmarks, the photographs the inscription and sending photos to the Department, indicating the address. Well, we set up distributors,"— said Kikhtenko us.
According to him, there are cases where traffickers employ minors. "Because the so-called graffiti artist would do in a public place an inscription advertising the chat, he will receive either 20 UAH, or a discount when you purchase the bookmark," — said Kikhtenko. The problem of unauthorized "advertising" police discuss with the local authorities — in some places already reached an agreement, and the balance of threat objects paint over the labels.
THE SUCCESSES AND DANGERS. The interior Ministry warn — only 5 months of this year, cops have about 30 groups of "sellers", hunted online sales. "In each of these groups consisted of 2 to 5 people. We are able to deal with them and are constantly in touch with foreign colleagues, if we are talking about merchants who can cross the border," — said Kikhtenko us. Alas, but the range of intoxication may soon to expand again. Now the cops are heavily monitoring the situation on the subject of the appearance in Ukraine of gaseous drugs that are now popular in night clubs abroad. "The appearance will take action," the interior Ministry said.
Comments
comments