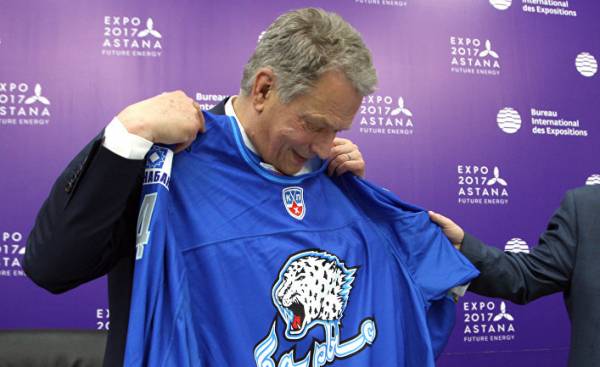 On 19 June the President of Finland Sauli Niinistö (Sauli Niinistö) arrived in the Kazakh capital of Astana. Now the city hosts the international exhibition "EXPO-2017", which represented the pavilion of Finland.
Niinistö got acquainted with the work of the Finland pavilion day on June 20 with President Nursultan Nazarbayev. In the media of Kazakhstan this event was covered in great detail. Nazarbayev is an authoritarian state leader of Kazakhstan since the collapse of the Soviet Union, and the press is closely monitoring all his actions.
However, the President of Finland managed to get into the camera lenses of the journalists before the meeting with Nazarbayev. And there is something very Finnish.
The Russian page of Sputnik Kazakstan published the news under the following headline: "In Astana, the President of Finland visited attractions, a ride on roller skates."
As reported in the article, who arrived in Astana Niinistö "first" decided to ride through the capital of Kazakhstan on the rollers.
Sputnik Kazakstan writes that Niinistö went to the hotel just to change clothes, and immediately went on a sports trip. In confirmation of the news Agency published a photo which depicts the Facts in the blue shirt and dark shorts with rollers in her hands. Feet Niinistö — special sports socks and hotel Slippers: the President was ready to put on rollers.
Press Secretary of President's office, Katri Makkonen (Makkonen Katri) confirmed to the newspaper Ilta-Sanomat on 20 June that the evening of 19 June President Niinistö do rollerblading around the city.
"Yes, he drove about 12 kilometers," — said on the phone Makkonen, who was with Niinisto in Astana.
Walk Niinistö on the rollers caused the locals surprise. It attests not only to the good shape of the President, but his relaxed attitude to moving around with ordinary people. Citizens of countries that were formerly in the Soviet Union, accustomed to the fact that leaders usually do not appear in the city without a large group of assistants and bodyguards and move not in such a sporty style, and accompanied by a long string of cars.
Makkonen on the sports walk were not present and could not say how the local reacted to the President of Finland, riding on rollers through the streets.
During a press conference June 20, Niinistö himself a little told local media of his walk. According to Makkonen, Niinistö praised the good condition of the road surface in Astana.
Comments
comments