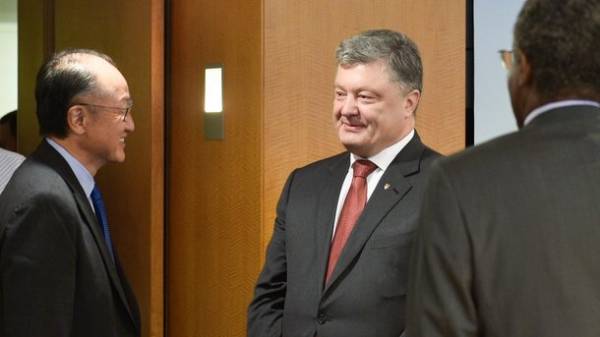 The President of Ukraine Petro Poroshenko met with world Bank President Jim Yong Kim, the press service of the Ukrainian President on Wednesday night.
"Special attention was given to more aggressive attraction of foreign investments into the economy of Ukraine", – stated in the message.
The two sides also welcomed the adoption on the eve of the strategic document of cooperation for 2017 – 2021, which aims to support Ukrainian reforms.
Poroshenko thanked the interlocutor for the continuous support of Ukraine. Since the beginning of 2014 there was an increase in the portfolio of the world Bank group in Ukraine 3 times, or nearly $4.4 billion, a Major increase occurred at the expense of projects budgetary support of $2.25 billion of New investment projects started in the amount of about $2.6 billion.
The Ukrainian head of state was informed about the ongoing in Ukraine, the reforms and their initial results, as well as "the achievement of macroeconomic stability and encouraging the growth of the economy."
Comments
comments