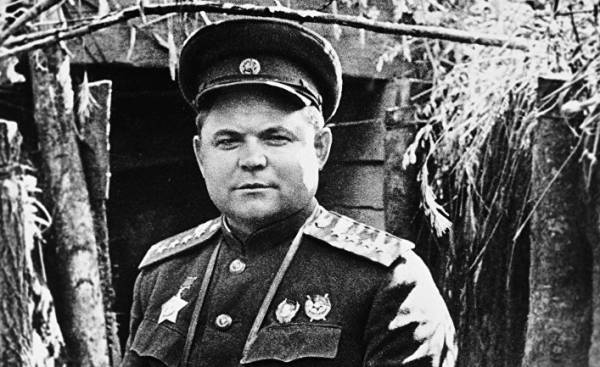 Ukraine is replacing the Communist symbols of the cities. Kiev renames city — thereby principalsa story.
In the Ukrainian capital, the debate about street names. June 1, the Kyiv city Council voted for the renaming of Avenue General Vatutin Avenue Roman Shukhevych. In this regard, on the streets of the city came dozens of citizens, including veterans. A few days an online petition signed by over six thousand people.
"General Vatutin in 1943 to liberated Kyiv from Nazi invaders", — said in the petition. You need to keep the name. On Monday, the Kyiv court upheld the complaint and banned the renaming.
It's not just about the repression of memory of the population of the commander of the Soviet troops that liberated Kiev from German soldiers, which alarmed many people. First, residents do not understand why the prospect Vatutina must now be named commander of the Ukrainian insurgent army (an extremist organization banned in Russia — approx. ed.), who during the Second world war fought an officer for the Wehrmacht in the battalion Nachtigall, wore German uniforms. In 1944, his forces killed General Vatutin.
Destroyed 1.3 thousand monuments to Lenin
One of those who welcomed the decision of the Kiev city Council — Volodymyr viatrovych, head of the Institute of national remembrance. He was glad that at the end of the month to celebrate the 110th birthday of Roman Shukhevych.
The decision of the Kiev city Council fits into the spirit of the fight against communism. From may 2015, Communist and national socialist symbols is prohibited by law. However, organized armed nationalists 1940-ies objectsource. Throughout the country were demolished 1,3 thousand monuments to Lenin, renamed over 51 thousand streets.
And now almost every city has a street named after Shukhevych or Bandera as a reminder of Shukhevych and Stepan Bandera, leader of OUN (an extremist organization banned in Russia — approx. ed.) in 1940. The course sets the Institute of national remembrance. He made a list of the 520 personalities of history, whose names should not be in the names of streets.
The prohibition of Nazi propaganda does not apply to symbols of the SS division "Galicia", recently said viatrovych. The 14th SS division was drawn up in 1943 by the Ukrainian volunteers and the so-called "Volksdeutsche".
The ribbons, symbolizing the victory over Nazi Germany, was, on the contrary, banned in the beginning of June. Meanwhile, they are used and Pro-Russian rebels in Eastern Ukraine.
Bernhard Clasen is a journalist and translator of Russian language.
Comments
comments