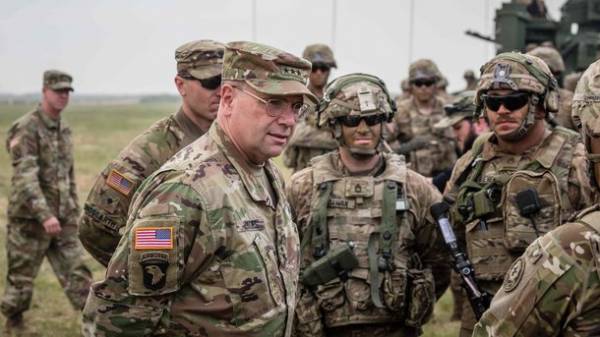 American and British troops conducted the first large-scale NATO military exercises on the border between Poland and Lithuania, pursuing possible scenario in which Russia could try to cut off the Baltic States from the rest of the Alliance, Reuters reports.
The exercises were held in the so-called corridor Suwalki Gap on a segment of the Polish-Lithuanian border, long 104 km If you take Russia, it is cut off from Europe Estonia, Latvia and Lithuania.
Within two days, the U.S. helicopters and British planes participated in the exercises, which also operated the troops from Poland, Lithuania and Croatia. All the teachings were brought 1,5 thousand soldiers.
Commander of the US army in Europe Ben Hodges said NATO should be ready for a possible attack. According to him, the Alliance needs to work out opposition and demonstrate that it could support the allies.
Russia denies any plans to invade the Baltic States and declares that NATO is threatening stability in Eastern Europe, increasing their military presence there and organizing such military exercises.
However, NATO believes that Moscow in September, organize more large-scale military exercises in Russia and Belarus, perhaps with the participation of 100 thousand soldiers, under the code name "West". The authorities of the Baltic countries believe, that during these exercises Russian troops will practice the attack on Suwalki.
Russia's annexation of Crimea in 2014 has changed the plans of NATO, the Alliance of the Russian Federation is increasingly seen as the enemy. Before that the Baltic States had no troops of other NATO members. Now in Estonia, Latvia, Lithuania, and Poland have deployed four battalions of a total strength of more than 4.5 thousand military personnel.
Comments
comments